A swinging, swank setting for spirits
By Sam Bygrave
Everywhere you look there are hot dogs and tacos and sliders and slacker food trussed up and kitted out. Casual food and drink is king. It's probably an overdue democratic backlash after many years of high-end and exclusive bars dominating the landscape for so long. One need only look at the long list of fine-dining closures last year to see that the public's taste for formality has faded.
Perhaps food and drink got too serious there for a while, too self-referential. The experience became less about the company you kept and more about food for food's sake. But that doesn't mean there isn't a market for grown up food and drink – pounding back tequilas and tinnies of beer is not for everyone, after all. And it's to those folks that Cellar Bar, Melbourne is looking. The place is grown up, refreshingly lacking in irony, and is a whole lot of fun.
With ornately patterned red carpets, dark timbers, deep and all encompassing banquettes, and bartenders in their best, crisp white shirts and vests, it's more Dino and Frankie having a ball and less frat boy fracas. And those cues mean they're attracting the right sort of crowd, according to the director of the Melbourne Pub Group, Julian Gerner. "[They're] a well-heeled mature audience that appreciate the finer things in life, and are looking for grown up fun," he said.
ADVERTISEMENT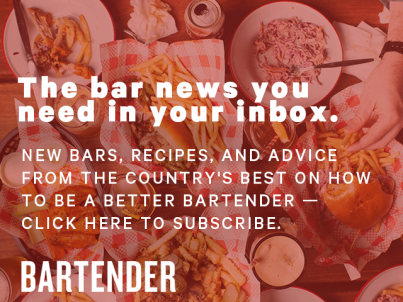 &nbsp
While you can drop in and sit at the bar for a drink, this is the kind of joint where you want to sit down. It's channelling the stage-show glamour of Vegas clubs like the Sands before the strip got trashy. Like those clubs entertainment is prominent at Cellar bar, where a stage has acts performing just about every other night. "The inspiration came from Paris in the early 20th century," said Gerner, "vintage Vegas and Prohibition night clubs."
The food is front and centre, and with good reason: the Melbourne Pub Group's Paul Wilson has distinguished pedigree on the pans. It's an intelligent menu that doesn't smack of pretension; it's just very, very good. Wilson is responsible for the food upstairs at the Newmarket Hotel which draws on Wilson's love of Latin food. "Upstairs at the Newmarket Hotel," said Wilson, "we take classic Mexican dishes and modernise respectfully into cool street eats."
There, we'd suggest ordering the soft tacos with wood roasted bone marrow. "This dish was created with a dear friend in mind, Anthony Bourdain," said Wilson. "He adores bone marrow and authentic Mexican.  The braised brisket with the marrow is based on the original recipe for chilli con carne."
Downstairs, however, Wilson and his right-hand man, Wayne Manney, expand upon those tastes. The spring to summer menu is traditional Latin (this will change with the seasons). The menu offers up four, six, and eight course option with matched beverages if you heart desires, and dishes like ceviche which Wilson suggests is among his favourites for matching with tequila.
What's the best food for tequila? "Anything with good acid and spice!" he said. "My favourite is ceviche but it's a very diverse spirit – each style has friendships with food. Blanco for ceviche, reposado with braised or roasted meats like a mole, or tacos el pastor and some of the aged oakey tequila is wonderful with chocolate."
He's not shy when recommending the stuff from Oaxaca either. "Mezcal deserves more focus," he said, "it's smokiness is interesting with food."
Mezcal features prominently in the bar program too, said bartender Christian de Vrieze. "The mezcal especially is being well received," he said, 'it's now become an easy step for customers to jump to the once feared product with quality products now becoming more readily available in Australia."
And just like the food will change with the seasons, so too will the drinks offering. "[It is] seasonally jumping from country to country, starting with Latin Mexican inspired cocktails and spirits," said de Vrieze. "Inspired from Paul Wilson's food, the small cellar bar team has created an all tequila and mezcal cocktail list supported by some forgotten classics," he said.
The take-a-seat, stay-awhile approach to dining comes through on the drinks too, says de Vrieze. "Bar service is completely table service," he said, "even waiting for a drink at the bar you will be table served by a bartender not from behind the bar but from beside your shoulder, explaining the full beverage offer in detail."