By Sam Bygrave
Not long ago a couple of cracking gins appeared on the market; lo and behold they were Australian. The West Winds gins caught the fancy of juniper-prone bartenders across the country (their stand at Bar Week Drinks Fest was as full on as the botanicals in the Cutlass gin they make), so we caught up with rabble-rouser-in-chief, Jeremy Spencer, to find out more about what they do.
Can you tell us how the West Winds came to be?
Four guys of very different backgrounds. A failed cricketer, a surfer, a bouncer and a kiwinese genius all contribute to the history of The West Winds Gin.
ADVERTISEMENT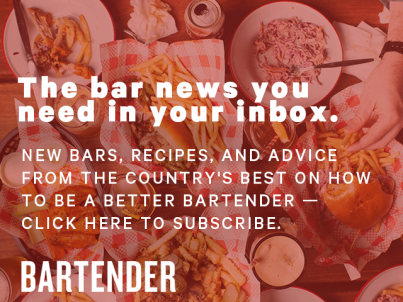 &nbsp
Did you have experience distilling before? Do you distil it yourself or contract the work out?
Our partner in booze Paul had been tinkering away for a year and had actually won some awards for a Grappa he was playing with. We make it ourselves which ensures consistency and quality every time which is what our brand is built on.
How many bottles do you produce a year?
23,475
Did you envisage you'd have the successes that you have had when you started out?
We knew we had created something special but couldn't have foreseen the magnitude and support. I mean a double gold three weeks in was an amazing and humbling achievement.
What tips would you give to bartenders who want to be distillers?
Start saving now, pick your spirit, make sure you genuinely love it, do your planning and engage your mates. Our friends have been amazing and made the journey what it is. That and the four of us get on famously.
Could you tell us where your ingredients come from?
We source as much locally as we can. Our lemons and limes come from Gin Gin, coriander is grown on Paul's neighbour's property and a certain amount of our juniper comes from McLaren Vale. We agreed on a very locavore mentality from the start.
Why do you think Australians tend to neglect native ingredients in drinks and cooking?
Like most things it is just misunderstanding that and I don't think we took them seriously. Anything Australian has been seen as a bit dinky di for so long when it couldn't be further from the truth as we have some great flavours growing right here.
Which is your favourite gin from the two you make? Or do you have a secret batch that no-one knows about?
Being a Pom by birth I do lean towards The Sabre as it is classic and very versatile for all the great citrus based gin drinks. We did release it at 44% (in a 1.5ltr magnum named The Dirty Harry) as part of our limited run series OHMSS. This is us tweaking and playing with the brand as we are young, mischievous and the brand is fairly agile in comparison to the big boys.
How do you like to drink said gin?
Win me over with a double. Chilled glass, lots of ice, fresh lemon and a splash of tonic. Stirrer.
Lemon or lime with a G&T?
Highly subjective but I stick to lemons as gin was created in a time when limes didn't exist in London. I think lemons balance the sweetness of the tonic and balance the whole drink making it one of the great liquid marriages.
If you had to name a favourite gin other than the ones you make, what would it be?
Tanqueray Export. Exactly where a gin should be and from there the spectrum goes lateral.
Could you outline a little of your process – how did you decide what botanicals went in to your gin, the choices along the way etc.
We use a 150ltr Holsten copper still and throw all the 12 botanicals into the pot at various timings. Bush tomato was always on the agenda as Jackie Chan has a thing for the savoury types and wattleseed really softened The Sabre up as we weren't ever going to run with fake sugars as that thing gets found out fairly quickly in this game.
How did you know when you had hit on the right formula?
We didn't.
What would you be doing if you weren't doing this?
Travelling, chasing pretty girls and generally making a nuisance of myself. Jason would be hiding in the northern parts of Scotland redefining the way we see whisky.
What do you think the booze industry in Australia needs more of?
Support from the Government. The tax on small producers is very harsh and stunts the growth of what could be an amazing industry .
What does it need less of?
Wowsers, haters and temperance types.
What has bee the most successful product you have produced?
Both have won awards and outsold any of our expectations but The Cutlass is our gin lovers gin. The bartending fraternity has really taken to it and that support is truly humbling. Thanks folks.
After a hard day what do you drink to unwind?
Boilermaker or G&T pints. An ice cold can is so underrated.