Interview by Sam Bygrave
Shaun Pattinson's bar, Cushdy, has just celebrated 5 years of service and in that time has become the go-to bar in the burgeoning Adelaide cocktail scene. They've won awards – too many to mention – so we thought it high-time that we picked Pattinson's brain about what makes Cushdy so great.
What's the attraction of the bar business for you?
Originally, it would have been a passion for products but I think over time, meeting new people and providing a service has become just as important.
ADVERTISEMENT
&nbsp
Tell me a little about your business, Cushdy?
We have been open for 5 years this January and that is 5 years longer than most people expected. Located in the wrong end of a town that is only now starting to embrace the small bar scene. We are proud to be Adelaide's most awarded bar and that makes it all worthwhile.
How have you evolved as a business operator since the beginning?
It was a bit of "sink or swim" at the start not having been in the industry or run a business beforehand. Just when you think you know it all about owning a bar you make a silly mistake and realize you don't. Keeps you grounded.
How do you continually develop your creative ideas?
I'm the first to admit there is a lot of theft in the bar scene. It is rare to find anything 100% original but the bartending community feeds off each other and the few originators who are out there inspire the rest of us.
Where do you draw your inspiration from?
Trying to find different uses for objects that people are familiar with. Our main goal at Cushdy is to bring an element of theatre to the bar. Pouring a cocktail from a watering can into a plant pot may seem tacky to some but it is that unexpected nature of our drinks that people appreciate.
What excites you about the Adelaide bar industry?
The talent that has emerged over the past few years is very encouraging. The goal has to be to keep them in the state though. That will still take some time.
What can it use more of? Less of?
More owners behind the bar and on the floor, not in the office.
How important are awards – for the bar and staff – in establishing the bar's reputation?
It is always great to be recognized for the work you do. It doesn't pay the bills but everyone likes a pat on the back occasionally and the thought of influencing the industry in some way is satisfying.
Where do you both see yourself in five years? Anything exciting on the cards?
A new venue is on the horizon and hopefully by then the city will have seen a growth in great small bars.
What mistakes have taught you the most important lessons?
Too many to name. Don't change your focus even if the bar is not doing well. Changing music, vibe etc. very rarely works. Stay true to your ideals and what you had planned from the start.
Are there any local or international bar operators that you admire? Why?
I find more inspiration from the people behind the bar than those who run the show to be honest. Tony Conigliaro has been someone I have admired for his vision and unique approach to drink making.
How important are staff in operating a successful business?
Essential. Finding people who can make outstanding drinks but have a personality to match is very hard. We have been very luck at Cushdy that we don't have a high turnover of staff.
What are you drinking now?
A lot of craft beer. Hop Rod Rye from the U.S and Brooklyn IPA.
ADVERTISEMENT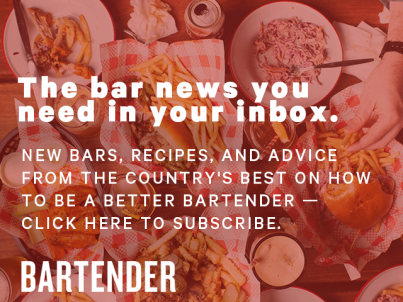 &nbsp