From Star Wars junkie to Hinky Dinks manager…
James Irvine
Hinky Dinks
185 Darlinghurst Road, Darlinghurst
02 8084 6379
hinkydinks.com.au
How long have you been bartending?
Currently 2 years exactly.
Where have you worked previously?
I started off as a glassy/barback at Bungalow 8 and worked my way up the ranks (and the stairs) to bartend at theloft. From there, I worked at Smith's on Bayswater Road and BLACK by Ezard.
Before you were bartending what were you doing with yourself?
Hospitality, in general, was a way for me to earn money during uni. The usual study/work/life balance led me into bartending.
ADVERTISEMENT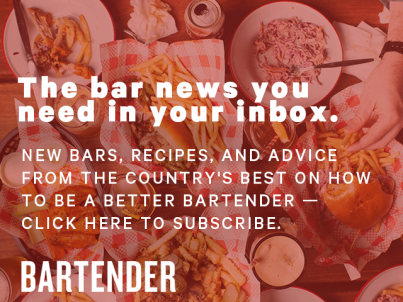 &nbsp
What is your proudest moment behind the bar?
This year has been rather kind to me. Being nominated for Rookie of the Year at Bar Awards was massive and getting a high commendation for Hot Talent at the TimeOut Bar Awards was another, however becoming Bar Manager at Hinky Dinks is up there too!
And the most embarrassing?
Having what I call "the boston pops" or a "toby's tantrum" where a shaker explodes mid shake…usually onto yourself or the customer!
How do you keep the 'chat' up while you're at work?
I believe the busier I' am, the better the chat. Always ensure the customers are happy and engaged, whilst keeping in touch with social media #barbanter
How do you prepare for competitions?
Know the criteria of the competition and the brands you're using. Whenever I have entered a competition my original idea is nothing like the finished product. Trial and error to finalise your entry. Preparation to execute it on game day.
What advice would you give a rookie bartender?
Being a Rookie myself I think it's important to be humble and listen to those who have earned their stripes. Work in a bar where you're comfortable and are able to constantly learn. Read up, knowledge is power! Make sure you're tidy and presentable. Always be polite, punctual and kind.
Favourites:
What's been your favourite bar to work in?
Undeniably, Hinky Dinks. I love the 1950's diner/tiki bar feel, the "dude food" offering and the amount of fun we have… we like to have fun. After that BLACK by Ezard.
What's your favourite bar gadget?
I don't know why, but a nice polished silver Julep Strainer.
What's your favourite city to visit?
Boston or Amsterdam.
What's your favourite movie?
Star Wars (IV-VI)
What's your favourite song?
That's Life, Frank Sinatra. It's all too relatable.
What's your favourite sport?
To watch- Cricket, to play on console- American Football.
What's your favourite cocktail?
Toronto
60ml Rye Whiskey
7.5ml Fernet Branca
7.5ml Sugar Syrup
Stir down, serve up, with an orange twist.
Cheering!
Drink:
What spirit should people be drinking more of?
Rye Whiskey.
Can you tell us some of your favourite bars to drink at?
Shady Pines, The Local Taphouse and Eau de Vie are some of my favourite spots in Sydney. When I was in Melbourne last, The Black Pearl and Kodiak Club, both in Fitzroy were the standouts. I would love to travel and check out bars all over the world, like PDT, Death and Co., Smuggler's Cove, Employees Only, Raines Law Room, Nightjar, Milk & Honey etc…gives me an excuse to travel!
What is your favourite product to work with at the moment and why?
At the moment it would have to be vermouths. At Hinky D's we've got a chipotle infused sweet vermouth that's just divine.
What is the weirdest or strangest drink you've ever had?
A Vegemite Flip…wasn't great.
What's the most enjoyable occasion to have a drink?
I'd like to say any occasion will do, but celebrating something is always nice.
What do you drink to…
Unwind after a long shift?
A nice cold Bear Republic Hop Rod Rye IPA.
Impress a date?
Left Hand.
Rye whiskey or Tequila?
Can I be greedy and say both? Probably Rye Whiskey…just
Other Stuff:
What was the last book you bought?
Batman: Arkham Asylum, by Grant Morrison and Dave McKean do graphic novels count? If not, Andrew Levins' Diner cookbook.
What drink trends are popular at the moment?
Microbrews. Local and international craft beer allsorts have had a real impact on trends of late. Whiskies and tequilas are becoming more prevalent on cocktail lists.