Mojo Record Bar
Basement Level, 73 York St Sydney
02 9262 4999
mojorecordbar.com
Go through a door emblazoned with vinyl records and down into the basement of 73 York Street and you'll find a record store and this cracking bar. Records line the wall, red covers the banquettes and the team behind the bar are some of the rockingest bartenders around. We enlisted bar manager Natalie Ng and her bartenders Noriel Calub, Roy Supan and Daniel Noble to get us ginned. We switched things up a little for this edition of the cocktail experiment, though. To throw the guys in to the deep end a little we thought we'd taste the gins blind. The task at hand was no easy one: the gin market these days has so many products available and we selected just four great examples. Nonetheless the team, led admirably by Natalie, managed to pick three out of four gins. Well done team!
Gin Number 1
"Viscous body, rounded," said, Natalie to get things started. "I got some mandarin," said Daniel. "It's really floral to me," said Natatlie.
ADVERTISEMENT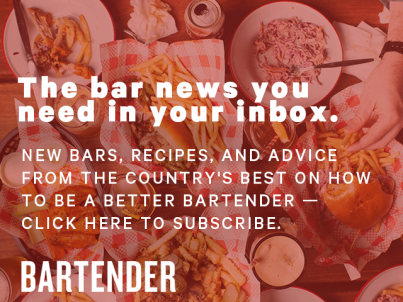 &nbsp
"I find it's a bit sweet," said Noriel. "For a London Dry gin it's more on the sweet side than dry," said Natalie, correctly guessing the style of gin. "It means it's more versatile in cocktails," said Noriel.
"Is it Beefeater?" asked Nat. Daniel thought that the gin would go great with anything and St Germain. "I reckon you could put a piece of bread in with St Germain there and it would come out as a pretty good drink. It just does not matter!" he joked. "Any real citrus drink, really. Any Breakfast Martinis, White Ladies," said Natalie, "anything with citrus will cut that initial sweetness."
At the end of the day the guys were thinking Beefeater, and Natalie nailed it thinking it was Beefeater 24.
Unmasked: Beefeater 24 London Dry Gin 45% ABV
Gin Number 2
"This one's really mellow on the nose," said Noriel. "It's more citrusy," said Natalie, while Daniel noted that it had a bit of a sting on the nose. "Citrus," said Roy. "It tastes like its got a little less viscosity as well," said Daniel. "It's a lot drier than the first one," said Natalie of the gin on the palate. "It still has a bit of fruit on the front-palate though," said Daniel. The guys agreed that the gin would suit straight-up martini-style gin drinks.
In terms of just which gin it was though, the panel was split and throwing names out at each other.
"I reckon it's the Bombay," said Noriel. "Bombay's always been light, but I could be mistaken."
"I'm going Millers," said Roy. "Yeah!" said Daniel, "I'm going with Millers Westbourne." Names like Tanqueray and the West Winds were tossed about. But the key was the higher ABV (or as Natalie described it, "big, ballsy ethanol"), which they had picked up on straight away.
Unmasked: Finsbury London Dry Gin 47% ABV
Gin Number 3
"It's viscous, look at the legs," said Noriel. "It's peppery," said Natalie.
"The citrus on this smells sweet," said Noriel. "Its pepper, spicy on the nose," said Noriel, while Natalie reckoned there was some capsicum notes to the gin that reminded her of the West Winds gin.
"This one really does fill your mouth as well, it's a got a real viscous thing to it," said Natalie, "this is a fucking serious gin." "The spiciness stays on the front of your tongue," said Daniel.
The team thought this gin suited Negronis, "because it's such a full flavour," said Natalie, "it'd be good to cut that with Antica Formula."
"I think just as a pink gin," said Daniel, "just give a little bitterness to it – nice and simple. It's super-drinkable on its own."
"I don't know on this one, hey," said Daniel. Roy reckoned it was Bombay.. "I swear this one's either Plymouth or Millers," said Natalie. You might be on to something there, Natalie.
Unmasked: Martin Miller's Gin 40% ABV
Gin Number 4
This gin is a recognizable one, with a couple of the guys screaming "Lilly Pilly!" as soon as the glasses were plonked down in front of them, thanks to the slightly pink hue to the gin. The nose is a little different for a gin, too. "I get a lot of wild fruit, a lot of blueberries, blackcurrants and cranberries," said Natalie. "Boiled fruit, apricots," suggested Roy, to which the team broadly agreed. "It smells like Christmas pudding!" he said.
"There's something there right at the beginning that I just can't get, before it changes off into stone fruits," said Daniel. "It really tastes like muscat or apricot," said Natalie. "It's almost like a creaming soda," said Noriel. "Yes! Thank you!" said Daniel, "it smells like my childhood!"
"I reckon the Florodora," said Noriel when it came to nominating some drinks it would work in, but Daniel had other thoughts. "Creaming soda spider!" he said.