Matthew Bax, is moving Der Raum to Munich and relabelling it Gamsei; in its place in Melbourne will rise  Bar Economico. Not that Bar Americano is being neglected: awarded Kiwi and Irish Bartender of the Year, Hayden Lambert (Merchant Hotel) has arrived in town to helm the bar.
Reematch Beeyatch has taken root in in our northern parts with the first ever event in Darwin at The Deck. Judged by imports Andy MacIntyre (Five Bar, Perth) and Jeremy Spencer (The West Winds) it was won by Maria Lainevir of Wisdom Bar & Café with a time of 4:36. Not too bad, Darwin!
Mixing your booze with diet soft drinks is likely to make you drunker than if you mixed them with non-diet soft drinks.  Apparently, the study in the journal Alcoholism: Clinical & Experimental Research  confirms that sugars in the regular soft drinks slows the absorption of alcohol from your stomach to your bloodstream which they say has implications for whether or not a drinker is likely to be over the legal limit.
Bacardi has acquired St Germain, the liqueur that came out of nowhere and satiated everyone's thirst for anything elderflower. Wonder what the little old French men riding their bicycles up the mountain to pick the elderflower think of it?
ADVERTISEMENT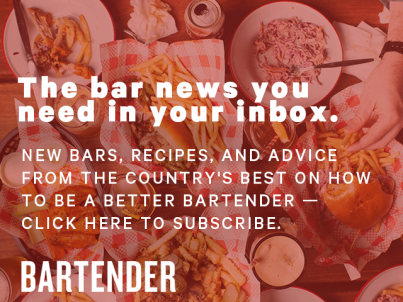 &nbsp
Scientists in The Journal of Sensory Studies have found that the colour of the cup that you drink from influences your perception of its taste. They gave participants the exact same hot chocolate in white, red, cream and orange cups. Apparently, the cream and orange cups tasted better.
Having bought Appleton Estate and Coruba rums, Campari Gruppo are now distributing these brands in Australia.