New cocktail recipes don't make it easy
Story by Gary Regan
I keep a file of cocktail recipes sent to me by bartenders that I deem worthy of testing. The testing, however, is becoming more and more time consuming, simply because few bartenders in this second decade of the 21st century are content to use only readily available ingredients in their drinks.
Instead, they create ingredients of their own by cooking, steaming, infusing, grinding and baking all manner of herbs, wines, nuts and spices. Therefore I'm often faced with labouring in the kitchen before I can even begin to make the drink that caught my eye. It's a hard life I have.
ADVERTISEMENT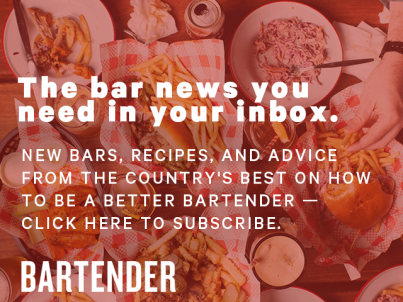 &nbsp
That's why I shied away from featuring a drink that called for English Bishop as an ingredient. The cocktail is pretty fabulous, being made up of a mixture of rye whiskey, maraschino liqueur, and both orange and Angostura bitters as well as the good bishop, but the chances of you plugging an orange with 40 cloves, baking it, quartering it, then simmering it in a port wine and sugar mixture is, I think, pretty remote.
I got a recipe from a bartender in Paris who makes a "Dirty Margarita" by adding locally sourced caper juice to a more or less traditional Margarita recipe, and he suggested that a homemade version can be made by adding lots of salt to a bunch of capers, pressing down firmly, and straining the resultant juice through cheesecloth. I think it's more likely that you'll visit his bar in France than make his caper juice.
South African bartender Nick Koumbarakis sent me a recipe made with Johnnie Walker Green Label scotch, creme de cacao and Grand Marnier – they harmonized quite well indeed – but to make it you must start out by muddling a few cardamom pods and making a Rooibos-infused tea syrup.
The drink I'm bringing to your attention this week also calls for one homemade ingredient, but you don't have to make it unless it captures your fancy.
"There are no good apricot brandies in Canada, so I use my own in this recipe," wrote Kyle Burch, a bartender in Toronto. "Half a kilo (about one pound) of dried apricots sitting in one bottle of St. Remy Martin VSOP for 10 days makes it quite lovely."
And Kyle is right. But feel free to use a generic apricot brandy rather than miss out on Kyle's Fortnight Cocktail. It's a gem of a drink.
Fortnight Cocktail

3/4 ounce Beefeater gin
3/4 ounce apricot brandy
3/4 ounce Dolin white vermouth
1/4 ounce Briottet or other crème de violette
Method: Stir all the ingredients over ice, and strain into a chilled cocktail glass.
Adapted from a recipe by Kyle Burch of 25 Liberty restaurant in Toronto.
The Cocktailian is reprinted with the kind permission of The San Francisco Chronicle. Gary is the author of The Joy of Mixology (Clarkson Potter, 2003) among other cocktail and spirit related books. Visit his website www.ardentspirits.com and sign up for the free Ardent Spirits newsletter. You can contact Gary at: gary@ardentspirits.com