From humble origins at the Paddo Bowls to the World's Best New Cocktail Bar
Interviewed by Sam Bygrave
The Zetter Townhouse, London, was nominated for two awards 2012's Tales of the Cocktail in New Orleans, taking out the World's Best New Cocktail Bar award. We met up with its Aussie ex-pat bar manager, Ben Clark for a couple of drinks when he was in Sydney recently.
Are you a bartender or a mixologist?
I think I class myself as a bartender. You know, from my days in Sydney, working at the Paddington Bowling Club pouring beers, and working into the cocktail scene, I don't see myself as a mixologist. Definitely see myself tending the bar in the classical way, whether it be the meeting of the guest to the goodbye. Tending to their needs and taking care of the whole bar, whether it be beers or wines or the cocktail side of things.
ADVERTISEMENT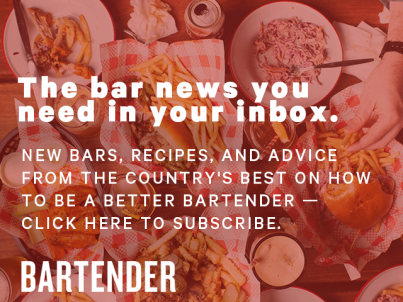 &nbsp
How long have you been in the industry?
I've been working in the industry since I was old enough and legal enough, basically, so ten years now, I'm 28 in April.
Where have you worked before?
I worked at Ruby Rabbit, Boheme Lounge, then moved over to London and worked at Rockwell Bar, which is bourbon bar on Trafalgar Square. It's the biggest bourbon bar outside Kentucky, 170-odd bourbons, a fantastic cocktail list and a really busy, buzzy bar. Did that for nearly two years and then I did about nine or ten months with the Soho House Group, so between Soho House and Shoreditch, that's a members club group. Then I spent some time away and came back and took a job at the Zetter.
What was it like being there for Tales of the Cocktail and winning?
It was really great actually. I went over with one of the owners [Australian ex-pat] Michael Benyan — and we sort of sitting there at the table, having a few drinks and first award up was best new cocktail bar. A couple of our friends were sitting in front of us, and they read out the winner Zetter Townhouse. We kind of had a look at each other and did a double take and were like, "really?". It was brilliant, a really really good feeling.
Does winning awards like that add another layer of pressure to what you do?
I think it adds even more expectation to keep delivering the consistently high levels that we do and to keep producing great drinks. Its about the whole experience as well, when you come into the Zetter Townhouse. Drinks are obviously a huge part, but from the interior to the private dining to the hotel rooms upstairs, its all part of the experience being in there. So in that sense I sort of noticed business did pick up a bit but we were already rammed pretty much every night — [there were] more international guests, obviously the international recognition to that award being from the States a lot of American guests, the Asian market as well.
I don't think the pressure is [a problem] no, I think it's nice to get the recognition, keep the trophy for a couple of days then put it in the office and just get back to business, really.
Is there something different about being a bar that's part of a hotel, a different way of doing things?
Yeah there is, I think what we do is quite unique in terms of the feel and the design, and the place is not your average hotel bar. You know, its not a five star West End hotel bar, its in the East End, In Clerkenwell an old meatpacking district, there's a lot of history in the area.
In terms of being a hotel bar as such, 75 to 80 per cent of guests do come from outside — hotel guests do use us, obviously, but it doesn't have that real hotel bar feel. It's a really beautiful cocktail lounge — with a hotel attached!
Can you walk us through the creative process of getting a drink on the menu at Zetter?
In terms of our drinks program and the list, obviously we work quite closely with Tony [Conigliaro]. The initial list they put a lot of work into, creating the history and the feel and the mood of the place. So we change three to four drinks every three to four months; the team we've got now are starting to express themselves a lot more, they're doing a lot of work up in the lab with Tony on a weekly basis, and then in terms of our recent list change, two drinks the guys worked heavily on between them and pitched them as a team to Tony: they bounce ideas of each other, saying this would work better or that would work better; more of this or less of that. The knowledge that [Tony's] got, and the direction that he's going in as well is priceless. So in that sense there's a bit more freedom for the guys obviously since opening when that list was being created to the team that we have now, it has changed and is very very different. So Tony's let the guys in a bit more, but you know, they're also expressing themselves as well, which is fantastic.
Do you consider yourself more a bartender or a manager?
I still consider myself a bartender, that's why I love doing it. And yeah, now I'm sort of leading a team, I guess, but I don't really like the word manager, so to speak — sometimes they do need managing, the guys, but as a collective group they're pretty good! Unfortunately I don't get to make drinks as much — I still try to do a couple of shifts a month behind there with the guys, but they're brilliant at what they do.
Is bartending a science, a craft, or an art?
Is bartending a science? Yes, there is science in it, but I like to think if it more as an art. There's the craft side to it but there is really, really beautiful art to it.
What do you look for in your bar staff?
Anyone who's willing to work 60 hours a week, for very little money! We try to keep an even balance: we've got a couple of big personalities, we've got some guys who are a bit quieter and more crafty. The hard thing is trying to find balance. In London there are so many bartenders, so many different nationalities, trying to find those jobs in the really good bars.
We want someone who wants to be there, wants to learn. Personality and the want is what we hire on, but obviously there has to be skill there as well.