A bartender turns booze-maker with this Aussie brand
When Melbourne bar impresario, Vernon Chalker (Gin Palace, Bar Ampere) played boozy-matchmaker to bartender Shaun Byrne and respected winemaker Gilles Lapalus, the result was two beautiful new vermouths. We caught up with the gents to find out how they did it.
Can you tell us how Maidenii came to be?
SB: I was going through a phase of trying to prepare ingredients for the bar that are better than anything available commercially. I attempted vermouth, it was ok, but not as good as commercially available products, Vernon suggested I should meet his French winemaker friend Gilles Lapalus, which I did. We did a tasting of all other vermouths we could get a hold of and discussed what we liked, what we didn't and the direction we thought vermouth could go in. We decided on two key elements: good quality fresh wine; and the use of local botanicals to showcase what Australia has to offer botanically. Choosing the botanicals was a little more difficult, we sampled over 100 different botanicals to locate the ones we felt met our brief. The first blending session we did lasted over 12 hours, a mammoth session however from this we were able to pinpoint 16 critical botanicals that we knew would give us the flavours we were pursuing. We painstakingly developed the recipe over the next few months finally stopping at 34 botanicals (12 native) when we felt the vermouth had achieved a balanced complexity which made it a pleasure to drink.
ADVERTISEMENT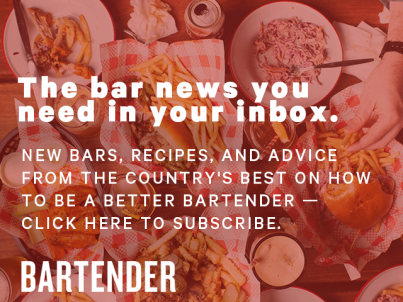 &nbsp
GL: Every year I make something different, small batch, experimental and have being doing so for a while, I still have some ratafia in barrels in Burgundy since 1995. Vernon introduced me to Shaun and the seeds were sown, and the idea was to make something based on wine. I am a big fan of sherry, but Vermouth was new territory for me. I went to visit Noilly Prat, Spain and all its local vermouth and a pilgrimage in Torino, the chinato of Barolo also gave me some ideas on top of reading.
VC:  Shaun Byrne has too much energy. To shut him up, I gave him a very time consuming lengthy project to initiate. Gilles is a master blender and brilliant winemaker.  I've been keen to make our own gin for years, but building a distillery is out of my league at the moment.  Vermouth being the other ingredient in a Martini seemed achievable. Another useful factor is that we could sell the product through my bars.  At Madame Brussels, for example, we have replaced our Pimm's No.1 Cup punch with Madenii Double D Cup. This ensured we could move volume from day one.
Did you have experience making booze before? How does it get made? 
SB: Beyond a few different liqueurs, no not really, certainly not anything to this scale. We make the product with four essential elements, all chosen for very specific reasons. The first is the wine. The second is the spirit we use to fortify, we use grape spirit which we found to be more textural than grain spirit, which added to the mouth feel of the final product. The third is what we use to sweeten the vermouth, which in the Aperitif is grape must and with the Sweet we arrest the fermentation with the addition of spirit to retain the natural grape sugars. The final element is of course the botanicals which I have already spoken about.
Could you tell us where your ingredients come from?
SB: We source grapes from country Victoria and prepare the wine ourselves. The wormwood we use is picked by hand, by us, also from country Victoria. The oranges come from Mildura, Strawberry gum from country NSW, Sea Parsley from coastal SA. Basically we try to get everything from as close as possible.
Why do you think Australians tend to neglect native ingredients in drinks and cooking?
SB: If people aren't using native Australian ingredients it's probably because they don't know of them or understand how to use them. However the places that are sourcing and using native botanicals are at the top of their game, take Attica for example, arguably the best restaurant in Australia and they champion native ingredients.
GL: It is always difficult to change the fundamentals of a culture, and not only the origin of ingredients is important, but we have to associate our memory to the sensation. I love it when people comment on the MAiDENii and say: "it's like walking in the bush".
Which is your favourite? Or do you have a secret batch that no-one knows about?
SB: My favourite cocktail is a Negroni and I had this in my mind throughout the whole production of the sweet vermouth. We tasted it out of the barrel after we thought it would be ready, it tasted good, then the ultimate test, made a Negroni with it. I was extremely happy, we not only made vermouth that was delicious on its own, but it was even more delicious in its practical application of producing the best Negroni I have ever had. As far a secret batches go, Gilles and I have been discussing something really special that may come out next vintage.
GL: I really like the Aperitif, it drinks like a sherry. And yes we always have something on the stove.
VC:  The Negroni was an idea for a benchmark. We all agreed that the cocktail ingredient (sweet) and the simply on the rocks version (aperitif) needed to be different.
How do you like to drink said vermouth?
SB: The sweet for me goes in a Negroni, but I am also partial to adding a couple of shots to a bottle of dry cider. The aperitif however comes straight from the fridge into my glass with a wedge of orange, simplistically delicious.
GL: The Aperitif from the fridge, in a fine wine glass.
VC:  On ice in a tumbler in the bath.
If you had to name a favourite vermouth other than the ones you make, what would it be?
SB: I adore Lillet rose and Cocchi Americano (not technically vermouths, but still delicious) for something light and refreshing. I also enjoy Antica Formula and Dubonnet to sip on after a meal.
GL: The  Carpano Antica formula, and also the Cocchi antica formula.
VC:  I now only choose Madenii.
What do you think the booze industry in Australia needs more of?
SB: Support for local ingredients and locally made products. Tasmania is producing whiskies the Scots are drinking, Westwinds are winning over non-gin drinkers and 666 are putting flavour back into vodka. This is just the tip of the iceberg, if we as bartenders (yes, I still bartend) don't support these brands they can't grow. The government also needs to support local brands. Our liquor is really highly taxed, especially spirits, this should be dropped for locally produced products to make it more affordable for consumers to drink local.
VC:  I think continued interest in making good unique products for the bar industry is a never ending story.
What has bee the most successful product you have produced?
SB: Maidenii Aperitif. When some of the best restaurants in Australia such as Attica in Melbourne, Marque in Sydney, Garagiste in Tasmania and Appellation @ The Louise in South Australia start stocking your product you know you have done something right. People that are making money for their good taste are giving our product the tick of approval which is both humbling and encouraging.
After a hard day what do you drink to unwind?
SB: Australian Negroni – equal parts Westwind Sabre, Maidenii Sweet & Campari
GL: Cigars and MAiDENii aperitif
VC:  Scotch.