Giving food a flavoursome booze buddy
When I first began in this industry and started frequenting cocktail bars I was never overly impressed with the food offering, if indeed there was one at all. Eating elsewhere and then arriving at your cocktail drinking destination was simply what was done. Over the past few years I have noticed a massive swing in venues specialising in cocktails and offering great food selections (or indeed improving upon their existing), even to the quality of top restaurants.
From a consumers view this brings a desire to ask bartenders about which of their tasty libations or spirits would match their chosen dish. Consumers have expected this of waitstaff and sommeliers for many years and now expect it of cocktail bartenders working in such venues. The art, science, fascination or endeavor of matching cocktails to food is, I would like to say a formula that can be learned, taught and mastered. However for most of us bartenders culinary talent is not at the forefront of our repertoire thus making working with our kitchen team very important.
Consumers that visit top restaurants and bars are seeking experiences. They can no doubt afford a bottle of gin and sit home drinking G&T's for a fraction of the price but the experience is what they crave. If your venue has a food menu and are serving cocktails you as a bartender should know which dishes match which drinks and spirits. Discuss flavours with your chefs, ask your manager for a training session from the kitchen team, cook at home to think about flavour matches and remember there are no stupid questions.
ADVERTISEMENT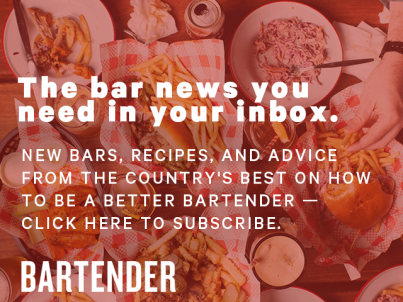 &nbsp
The matching of food to drink has been happening in many shapes and forms since the early ages. From a flagon of mead with roasted boar, a shot of frozen vodka with caviar, a tasty lager with Christmas BBQ, the sommelier and chef working together to match food to wine, and now the modern day bartender pairs more drinks to a whole world of culinary delights. When food and drink come together it can create a truly memorable occasion.
When I first began matching cocktails to food I always found it easier to match a cocktail to a dish that had already been conceptualised and plated; I now realize that if you work with the chef from the ground up the best results can be achieved. Involve your kitchen team when creating your cocktail list and ask them questions about their menu direction. When suggesting cocktail matches one must realise there are many ways to match flavour. The obvious way is to pick a dish that has similar ingredients to your cocktail however a true balance and match may also be achieved by contemplating texture, temperature, acidity, sweetness, oiliness, and complexity of the food and cocktail to bring both into harmony.
This is indeed a skill that a few years ago cocktail bartenders did not require but as consumers demand more of us we must rise to meet the challenge. The best thing about working with matching cocktails to food is the only way to make the dish a pure harmony of solid and liquid is trial and error. Enjoy the trials and leaning from your kitchen team, enjoy the failures and of course enjoy your successes.