Industry stalwart and cocktail educator, Mr Ben Davidson
This month in Drinks With we catch up with one of the industry's stalwarts – the Cocktail Chef himself – Ben Davidson.
Ben is one of Australia's most accomplished and well known bartenders – a multi-award winning former Cocktail World Cup Champion (2004) and Bartender Magazine Bartender of the Year (2005).  With nearly 20 years' experience behind the bar he is one of the most knowledgeable spirits professionals and one of our foremost culinary cocktail craftsman.
He is currently the Brand Education Manager, National Spirits Ambassador and Head of MAISON for Pernod Ricard Australia.
Where did it all begin for you?  
ADVERTISEMENT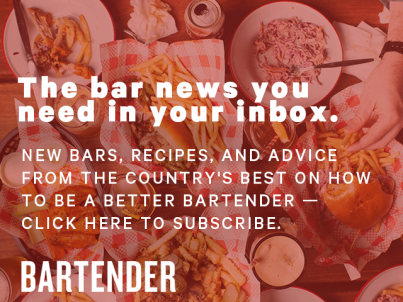 &nbsp
I learned to be a bartender in Los Angeles, California, whilst studying at University over there. It was the early 90's and I was thrown into the deep end of a busy restaurant cocktail bar learning recipes on the fly while pumping out mainly classic cocktails. (Sex on the Beach, anyone?)
How did you get your start back in Australia?   
I returned to Sydney in '97 after over 10 years away and got a job with the Rockpool Group as a bartender. Working for Neil Perry inspired me to focus on quality in drinks; premium spirits, fresh fruits and juices and also to experiment with Asian herbs and spices and savoury flavours in cocktails. At this time the restaurant and bar scene in Sydney was undergoing a seismic shift in the lead-up to the Olympics. I was one of a few bartenders who were beginning to bring some of the drinks trends from London and New York to Australia. It wasn't rocket science or even mixology. We were just making tasty drinks (sweet, but tasty).
How has bartender training evolved since you've been doing it?  
I've been with Pernod Ricard for seven years, (currently the longest serving Ambassador in Australia), having delivered over 1000 training and tasting sessions in locations all around Australia. The last few years has seen another seismic shift in the industry – all stemming from the rapid flow of information and instant communication through the development of bartender networks and groups exchanging ideas.  At the moment I'd say Australian bartenders are the best trained bartenders in the world. We've had programmes like Alchemy and Mixxit delivering world class sessions for years that have added much value and knowledge to bartenders. When you've got Jason Crawley, Dylan Howarth, Jamie Terrell, Manuel Terron, Seb Reaburn, Sven Almenning, Jay Lambert, Geraint David, Barry Chalmers, Simon McGoram (and many others) either delivering or designing training programmes for companies and brands the level of quality of training is next level. The challenge is to evolve training to the next level and I think that's what MAISON is all about.
Okay, so we've been hearing a bit about MAISON. Can you tell us what it is all about?
MAISON was two years in development and based on extensive research around the world about what bartenders want and need in a training programme. The result of that research is MAISON, a pioneering global bartender training and advocacy programme, bringing world-class category experts to bars anywhere in the world through an innovative and immersive format based around the use of exclusive iPad apps.
It's a modular programme that covers detailed training in the major drinks categories, as well as, customer service and bartending skills. Each session covers history and production for each category through to spirits and Champagne appreciation and knowing the significant category cocktails.
Who are some of the 'Gurus' that lead each module?
Each module is written and presented by a world renowned category expert (Guru) from an independent perspective via the iPad app, giving a balanced and thorough approach to training, with the benefit of bartenders' career progression in mind.  Some of the names will be familiar to most, however, all are highly regarded experts in their field.
Who is MAISON targeted at?
MAISON is designed for new and experienced bartenders who are already engaged in the industry, who are hungry for knowledge and are who looking to further their career in hospitality.  Ideally they are Foundation-level bartenders, with:
• a passion for their work
• a desire to be the best in the business
• a commitment to pursuing bartending as a long term career.
We hear there is a globally recognized credential attached to MAISON? 
We submitted our course materials to the Ecole Hoteliére de Lausanne, Switzerland, who have agreed to issue a Certificate in Hospitality to bartenders who complete the entire MAISON course, passing all the modules. This is one of, if not the top Hospitality University in the world and carries a huge amount of prestige.
How has MAISON been received by the Australian bar community since it's launch?
I've been thrilled with the feedback we've received so far. I've kicked off the programme with two of the modules – Rum and Tequila, to get a good cross section of bartenders to see what it's all about.
Any final Comments?
I'm very proud of the work we've done in developing MAISON as a programme that adds value to bartenders, develops professionalism in bartending and elevates the craft of bartending to a meaningful career choice. At the end of the day, MAISON has been created by bartenders for bartenders.
Find out more about the MAISON program at www.facebook.com/MaisonBartendersAustralia