Is there anything more classic than this?


By Amy Spanton
Illustration by W. Chew Chan
No one really knows who invented the Martinez. Big shock there. Some say it's named for a guy called Martinez who whipped together some gin and vermouth. Others credit it to the Granddaddy of all things bartending, the Professor Jerry Thomas who created it for a fella who travelled to Martinez, California every day. It doesn't actually appear in Thomas' original 1862 printing of How to Mix Drinks or the Bon Vivant's Companion but then it appears in the 1887 edition, which has led to speculation as to its true origins. So when there's a question, who better to ask than the erudite cocktail scholar, Mr Dave Wondrich. He says that theories surrounding the Martini/Martinez fall into two camps: the "martinez" group claims the drink(s) were invented in or near San Francisco, while the "Martine/Martini" theories call New York the home of the Martini. Wondrich is certain that Jerry Thomas wasn't responsible for the blend noting that it appeared two years after his death in a later 1887 edition of his Bartenders Guide. According to Wondrich The Martinez first appears in O.H. Byron's 1884 Modern Bartender's Guide, though without any mention of its origins.
Whether or not the Martinez came first, and the Martini spawned from it, the more important fact is that they both came to the fore in the late 1860s and into the 1870s, when vermouth became a common ingredient in American cocktails. Direct from Italy, it was the sweet Italian vermouths that made the first big splash (accounting for the Martinez. Dry or French vermouths started trickling in a few years later, with bar goers ordering mixes of the two styles in their drinks – this mix was called 'perfect'.
So why should we give it a better look? Well, for one, everyone in the bartending biz is obsessed with vermouths and the rapidly expanding library of available vermouths on the back bar make this a drink worth tinkering around with. Historically, this cocktail was made with Old Tom Gin, Italian vermouth, Maraschino liqueur and aromatic bitters.
If you want to replicate the original tipple, make sure you source some products that reflect these ingredients. Don't use a London Dry Style gin, opt for a slightly sweeter style Old Tom – there are a few distilleries resurrecting this style – try whiskyexchange.com who offer Secret Treasures and Jensen's. When it comes to your sweet vermouth go for something like Carpano Antica Formula; for the Maraschino, maybe Luxardo and perhaps The Bitter Truth's Jerry Thomas' Own Decanted Bitters or Boker's Bitters. With so many great products at hand you will be able to come up with your very own spin on the Martinez.
ADVERTISEMENT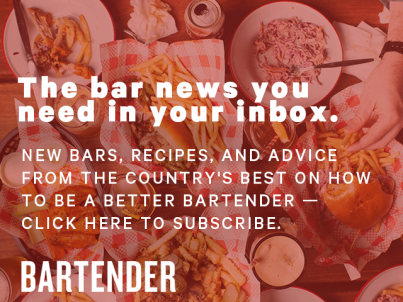 &nbsp