Over the course of two nights in Sydney last week, two international luminaries from the Moet-Hennessy stable – Belvedere's Claire Smith and Glenmorangie's Dr Bill Lumsden — put on a show for Australian audiences.
On Wednesday night Belvedere's Head of Spirit Creation and Mixology, Claire Smith, hosted a cocktail dinner at Rockpool Bar & Grill. On the menu that night — and proof that quality spirits can provide delicious matches with food — were freshly shucked oysters served with Belvedere Unfiltered served on hand-chipped ice and The Zephyr (Belvedere Vodka, pink grapefruit juice, orgeat, lemon juice, and tonic); a serve of woodfire grilled vegetables and goats cheese dressing accompanied by a Rosemary Dreams (Belvedere Bloody Mary, pineapple juice,  lemon juice, Aperol, simple syrup and rosemary garnish); roasted market fish in crazy water and aioli served with a 21st Century Cocktail (Belvedere Pink Grapefruit Vodka, bianco vermouth, creme de cacao,  grapefruit and lemon juices, simple syrup); and to finish a dessert of chocolate, caramel, macadamia, milk and dark shortbread matched with a Cereal Milk White Russian (Belvedere Unfiltered, toasted cereal milk, fair trade coffee liqueur).
This great event followed upon the back of a similar dinner Claire had put on at Vue de Monde in Melbourne featuring chef Shannon Bennett's celebrated cooking.
On Thursday night at St. John's College at the University of Sydney, there was a reverential tone as Dr Bill Lumsden, Head of Distilling and Whisky Creation at Glenmorangie, introduced the newest addition to the Glenmorangie range: Ealanta. With just a limited production run — only a small number of barrels were singled out and stashed away — the guests were impressed with the whisky at hand as Dr Lumsden discussed how it came into being. Somewhat differently for single malt whisky, he said, these whiskies were part of an experimental batch begun some 19 years ago, and were aged in new American bourbon barrels rather than the more traditional second-fill bourbon barrels.
Needless to say the resulting dram featured a good whack of oak, with the spirit possessing the strength to stand up to it; beneath the oak, a characteristic Glenmorangie profile was evident.
ADVERTISEMENT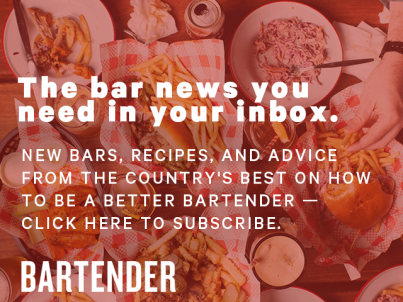 &nbsp
If you're keen to find out more about Belvedere's Claire Smith, make sure you catch the May issue of Australian Bartender for our Drinks With interview with her.