Taka is a busy guy — the day we visit him at Gilt (he's since moved on to Black by Ezard) he is sorting out two functions, meeting with reps and posing for our photoshoot. But he takes it all in his stride, which is an approach that has seen him compete successfully in a number of competitions. he's a humble guy too, not wanting to give out too much advic e to newbies as he reckons he's still not been in the game long enough. Read on for more…
Career:
How long have you been bartending? 
4 years
Where have you worked previously? 
ADVERTISEMENT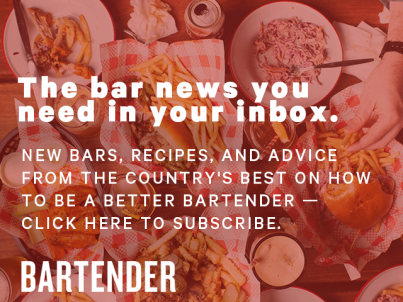 &nbsp
Started as Barback in Establishment then to Hemmesphere, Felix,
Eau De Vie
Before you were bartending what were you doing with yourself? 
Started working in bars while I was studying Performance in Classical Piano at the Conservatorium
What is your proudest moment behind the bar? 
Being able to stand next to Luke, Max, Chino, Phil, Ian and Josh behind the bar when I started at EDV.
And the most embarrassing?
Ahmm…Probably when I accidentally smashed the Lady's Leg shaker one night at EDV…Sorry Sven…and then when I went to check out Melbourne EDV the boys knew me as "that guy"…
How do you keep the 'chat' up while you're at work?
A boring guy like me has to work
really hard…
How do you prepare for competitions?
work more behind the bar as practice.
What advice would you give a rookie bartender?
Not sure if I'm at the stage of being able to give advices to be honest…I haven't been in the game for too long!
Favourites:
What's been your favourite bar to work in? 
Hands down EDV. Had the time of my life working with those boys, although it was a constant battle with hangovers…however, my current job at Gilt lounge is also proving to be enjoyable as well though.
What's your favourite bar gadget?
The Mr. Slim brand jigger
What's your favourite city to visit?
Tokyo, I hate crowded places and it does stress me out but that city is just so much fun! Helps I can speak Japanese too.
What's your favourite movie?
Don't really have one but I really did enjoy Les Miserable
What's your favourite song? 
Escape by Rupert Holmes…I love pina coladas…
What's your favourite sport? 
Skiing.
What's your favourite cocktail? (list ingredients and measurements)
Ward 8 – 50ml Rye, 20ml each Fresh Lemon, Orange, 15ml Grenadine
Drink:
What spirit should people be drinking more of?
Japanese Whisky. I'm very proud of what comes out of my home country.
Can you tell us some of your favourite bars to drink at?
(national & international) 
I try and make it to Bar High Five every time I'm in Tokyo, never been to the states but definitely a few bars I would love to check out and the Hemmingway bar in the Ritz in Paris was quite an experience. Otherwise Black Pearl, Eau De Vie, Grasshopper and Mojos are
at the top.
What is your favourite product to work with at the moment and why? 
Once again, Japanese whisky…
What is the weirdest or strangest drink you've ever had?
Vodka, soda and lime…
What's the most enjoyable occasion to have a drink?
When surrounded by mates and
close ones.
What do you drink to:
Unwind after a long shift?
Go home…if you ever see me out, its most likely because I've been dragged out by someone.
Impress a date?
My girlfriend knows my taste.
If you could have a drink with one person (alive or dead) who would it be and why?
Seth Macfarlane probably…Reckon I won't stop laughing for the whole session.
Rye whiskey or Tequila?
Sorry Luke…but Rye
Other Stuff:
What was the last book you bought? 
I was just on vacation back home in Japan and bought a novel over there. Had absolutely nothing to do with bartending unfortunately
What drink trends are popular at the moment?
Customers are really starting to become more educated with the taste of spirits and cocktails and are willing to explore more out of their comfort zone which is great. However, that being said, I still make too many Vodka mixers on the weekend.
If you could have a superhuman power what would it be – why? 
The ability to read peoples mind…I'm really curious to see what goes up there sometimes!
If you were to be something other than a bartender, what would it be and why? 
A rich guy just travelling around different ski resorts of the world.
Who's your hero? 
Don't really have one unfortunately.
What products do you think will be popular over the coming months? 
Once again, Japanese whisky. Hoping the introduction of Nikka to Australia will boost its representation of the spirit.
Where do you see yourself in 20 years time?
I can't even remember my schedule for the next two weeks…please don't expect me to answer that!
Last drink ever – what would it be?
Rob Roy or a Pina Colada.
How about both?