By Sam Bygrave
Cast your mind back to the early 2000's and eating and drinking were two separate things, done in two different places. Without a strong history of restaurant bars like other countries — see London and New York for healthy restaurant bar culture — drinking used to be confined to the pub or the high-end style bars (as they once were called).
But, as always there were exceptions: Longrain, Bayswater Brasserie and Lotus in Sydney; Cookie in Melbourne.
But as the 2000's wore on and the foams of the molecular gastronomy trend lost their puff, punters grew tired of high-end dining. Then the global financial crisis hit and suddenly casual eating was on the menu. In the years since, the fate of the high end restaurant has become an increasingly lonely one as expensive, three-hatted restaurants have made way for more humble eats. Bars have followed this trend too, as small bars — or what those people from Melbourne simply call 'bars' — have exploded in the last four years.
James Bradey, owner of Grandma's and The Wild Rover in Sydney, thinks the change is driven by what customers expect these days.
"The difference from 10 years ago is the variety [on offer]," he said. "This is down to more people traveling and seeing what is on offer around the world, a greater focus on freshness, seasonality and having a unique selling point."
ADVERTISEMENT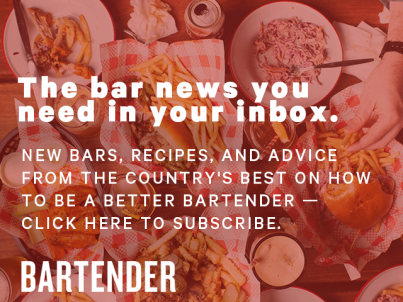 &nbsp
The Wild Rover has adopted this drinking with food approach wholeheartedly, offering oysters and some damn fine sausage rolls to their guests. Food nowadays is just an extension of the stuff bars do in addition to their drinks offering and as much a part of their identity.
"The food we offer is a reflection of our brand. Drinking food focusing on freshness and flavour," he said.
The burger at Rabbit Hole Bar & Dining in Sydney has gotten some big press recently, too. Owner and bartender Doug Laming says: "Food is equally important to modern bars as drink selection. The perfect combination between food and beverages is the ultimate bliss."
"All our meals can be matched with cocktails, wine & boutique beers to ensure a memorable night out for all our patrons," he adds.
Laming likes to dabble in the molecular arts for his cocktails, so the food offering at the Rabbit Hole is a little more involved, too. Check out the Rabbit Hole's chef, Tomoyuki Usui, discussing the art of building a burger to the right.
Not that there's anything lowbrow about Rover's lamb sausage roll — as we said, they're damnably fine.
"The sausage rolls are so tasty because they're made with love!" Bradey said.
How To…
The Wild Rover's Lamb Sausage Roll
Ingredients
• 4 kg lamb mince
• 400g brown onion finely chopped
• 500g butter softened
• 40g rosemary
• 40g cumin
• 40g smoked paprika
• 40g garlic powder
• 240g bread crumbs
• 160g parmesan cheese
• 25g cracked black pepper
• 8 whole eggs
• 8 large pinches of salt
• 4 lemon rind finely grated
Method
1. Thaw out pastry in the fridge the night before
2. Mix all ingredients together very well for approx 5 min
3. Roll out pastry. Place lamb mixture (450g) along pastry sheet leaving 2cm either side. Once sheet is full cut along each edge, brush with egg white and roll.
4. Sprinkle with sesame seeds and bake in a hot oven for 17 minutes.