Who's in the running for the top gongs in 2013?
Since the end of voting in May, Bartender HQ has been buzzing – working tirelessly to thin down what was a jam-packed selection of venues, owners and bartenders. It's finally done and the results are presented below. From what we can see they are the best and brightest of the Australian bar industry, drawn from a seriously talented pool who work tirelessly to keep their cities and towns at the forefront of fun – cause let's face it, that's what we're all about. We would like to take the opportunity to thank everyone who is involved in the Australian bar industry, nominated or not, because without your hard work and dedication the professional bar scene would not be in the sensational shape it is.
Click here to book your tickets to the Bar Awards and Bar Week!
Each of the categories has been whittled down to the top eight nominations and from there a winner is awarded and announced at the Australian Bartender Bar Awards in September. The 2013 nominated finalists represent the best we have to offer – the bee's knees of the bar biz. They reflect the state of excellence that is our current industry and Australian Bartender magazine would like to give a huge congratulations to each and every person involved in the finals.
ADVERTISEMENT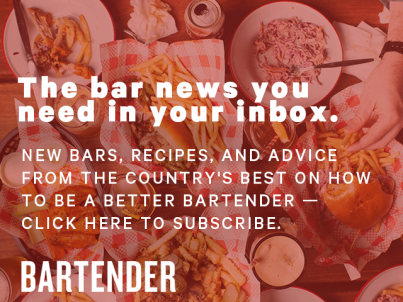 &nbsp
Again we will be looking forward to a sensational night at the Australian Bartender Bar Awards. Expect excellent cocktailing at the pre-drinks and of course, the big twist for this year – the final round of the Bartender of the Year competition running throughout the night. Talk about ramping things up! There will no doubt be some shaky hands behind the bar. So be sure to book your spot if eligible, as this year's finale will be a fitting way to cap off the Bar Week celebrations. We're also heading back to Doltone House in Pyrmont for the Awards night and from the positive feedback we received last year, it is sure to be another night to remember.
*Please note that Bar Awards tickets are only available to finalists, fellow bar professionals and sponsors. Remember that this is a sell-out event so be sure to visit barweek.com.au right now to avoid disappointment.
And the finalists are…
To check out all the competitors for this year's Bartender of the Year sponsored by ABSOLUT ELYX and Havana Club, click through here.
Bar of the Year National
This category is for those venues that offer a complete experience. Finalists in this category tick all the boxes that a good bar should – fab fit-out, friendly staff and a bunch of menus overflowing with cocktails, beers, wine and nibblies. They are the one-stop-shop for a rocking night out.
Baxter Inn, Sydney
Luxe Bar, Perth
Golden Monkey, Melbourne
Shady Pines Saloon, Sydney
The Bowery, Brisbane
Palmer & Co, Sydney
Lily Blacks, Melbourne
Cookie, Melbourne
Bar of the Year State Awards
You've been banging on about it for years. So here it is; a chance to honour some of the awesome bars in our cities and towns that have less of a populace to bolster their votes. Same criteria still applies – awesome venues with passionate peeps and delicious food and drinks.
ACT Finalists: Mint, Treehouse Bar, HaHa Bar
NSW Finalists: Baxter Inn, Shady Pines Saloon, Palmer & Co
NT Finalists: Wisdom Bar & Cafe, The Deck
QLD Finalists: The Bowery, Canvas, Superwhatnot
SA Finalists: Cushdy, Botanic Bar, Udaberri
TAS Finalists: Amor Bar, The Lower House
VIC Finalists: Lily Blacks, Cookie, Golden Monkey
WA Finalists: Luxe Bar, Five Bar, Mechanics Institute
Rookie of the Year
This award aims to recognise up and coming talent in the Australian bar industry. To be eligible for entry you must work in a bar and not have had more than two years experience come 31 May 2013.
Luke Fleming, Cushdy
Daniel Warren, 1806
Jordan Blackman, Old Growler
Sarah Fulford, Lily Blacks
Ben Lancaster, Kodiak Club
Billy Ngo, Mechanics Institute
Kieran Lee, Rockpool Bar & Grill Perth
Isabelle Comber, Sweetheart's Rooftop BBQ
Best Specialty Beer Venue
As a real passion for quality imported and locally brewed beer grows, so too have the venues specialising in the service of fine brews. This award recognises those bars and pubs that have a great beer selection, informative service and beer knowledge that sets them apart from the pack.
Redoak, Sydney
Cookie, Melbourne
Local Taphouse Darlinghurst, Sydney
Four Pines, Sydney
Josie Bones, Melbourne
Frankie's Pizza, Sydney
The Scratch, Brisbane
Kerbside, Brisbane
New Bar of the Year

Many great bars opened around the country between June 2012 and May 2013. This award is designed to honour venues that continue to raise the standards by creating new spaces that keep everyone else on their toes.
Frankie's Pizza, Sydney
Mechanics Institute, Perth
The Rook, Sydney
Bulletin Place, Sydney
Mesa Verde, Melbourne
The Wild Rover, Sydney
Mojo Record Bar, Sydney
Cobbler, Brisbane
Best Bartenders' Bar
There are venues that are instant hits with the punters and then there are those that have great street cred with the bartending fraternity. A true bartenders' bar however must be a viable business as well as a late night bartender hang. With dedicated industry events and strong trade support the winner of this award is littered with off duty bartenders every night of the week.
Baxter Inn, Sydney
Black Pearl, Melbourne
The Classroom, Perth
Frankie's Pizza, Sydney
Shady Pines Saloon, Sydney
Mojo Record Bar, Sydney
Kodiak Club, Melbourne
The Wild Rover, Sydney
Cocktail Bar of the Year National
It's important to recognise those bars that dedicated to creating a complete 'cocktail experience' – carefully conceived drinks, sophisticated ambience, superlative ingredients (including quality 25mm sq. ice cubes and bottled mixers), attention to detail and stellar service.
Palmer & Co., Sydney
The Baxter Inn, Sydney
The Black Pearl, Melbourne
1806, Melbourne
Eau de Vie, Melbourne
The Everleigh, Melbourne
Bulletin Place, Sydney
Eau de Vie, Sydney
Cocktail Bar of the Year State Awards
Passionate bartenders nationwide have been mixing, straining, hard-shaking and experimenting with soda siphons for years, but sometimes you'd think that hot trends were only the domain of the hipster 'tenders in Sydney and Melbourne. We're here to tell you that isn't the case. Read on…
ACT Finalists: Knightsbridge Penthouse, Kremliin Bar, Mint
NSW Finalists: Palmer & Co., Eau de Vie, Bulletin Place
QLD Finalists: White Lightning Tiki Bar, The Bowery, Canvas
SA Finalists: Cushdy, The Collins, Botanic Bar
TAS Finalists:  Bar Celona, The Lower House, Amor Bar 
VIC Finalists: Black Pearl, 1806, Eau de Vie
WA Finalists: Luxe Bar, Rockpool Bar & Grill Perth 
New Pub of the Year
This award recognises the efforts made by hoteliers and publicans to open new pubs or renovate and reinvigorate tired venues. All of the following finalists have opened their doors in the last year, with new and inspiring concepts.
The Hotel Marlborough, Sydney
Print Hall, Perth
Alfred & Constance, Brisbane
Woodlands Hotel, Melbourne
The Morrison, Sydney
Newtown Hotel, Sydney
The Bourbon, Sydney
Nightclub of the Year
The award is for those venues that come alive in the wee hours, with a dedicated area for dancing and a music policy to match.
Goodgod Small Club, Sydney
Eve, Melbourne
Kit & Kaboodle, Sydney
Survivor!, Melbourne
Amplifier, Perth
Marquee, Sydney
Ivy & Pool Club, Sydney
Hugo's Lounge, Sydney
Pub of the Year National
No doubt one of the most prestigious awards. The finalists in this category offer a complete pub experience in style.
The Brisbane Hotel, Perth
Golden Sheaf, Sydney
Forresters, Sydney
The Newmarket Hotel, Melbourne
The Norfolk, Sydney
The Carrington, Sydney
Sugarmill, Sydney
The Beresford, Sydney
Pub of the Year State Awards
We live in a wide brown land that is famed for its pubs. And it's about time that some of the lesser known watering holes were brought to the fore in front of their national peers. Plus, when you're travelling, it pays to know where you can get a decent beer and a steak.
ACT Finalists: Zierholz, Civic Pub
NSW Finalists: The Beresford, Forresters, Sugarmill
NT Finalists: Wisdom Bar & Cafe
QLD Finalists: The Alliance, Alfred & Constance, Story Bridge Hotel
SA Finalists: The Wheatsheaf, Highway Hotel, The Kentish Arms
TAS Finalists: New Sydney Hotel, Royal Oak Hotel
VIC Finalists: Newmarket Hotel, Collins Quarter, Baden Powell
WA Finalists: The Flying Scotsman, Brisbane Hotel, Boulevard Hotel
Bar Operator of the Year

This category will undoubtedly include some of the bar industry's most passionate professionals. All of them are dedicated to the venues that they own or run.
Michelle Mok & Andy Freeman
Lisa Kelly
Mike Chen & Adam Ong
Swillhouse Group
Vernon Chalker
Bonnie Shearston & Tom Sanceau
Shaun Pattinson
Speakeasy Group
Best Regional Bar
We know, we know, you've been telling us for years about the bars outside the big smoke. And apparently some of them are pretty damn good. Well, we've listened and here the top picks for this brand new category.
The Roadhouse Byron Bay, NSW
Kelly's Bar & Kitchen Olinda, VIC
Goldfish Hunter Valley Hunter Valley, NSW
Heritage Bar Townsville, QLD
Cambus Wallace Nobby Beach, QLD
Reviver Gosford, NSW
Mojito Joe's Avoca Beach, NSW
Zed Bar Albury, NSW
Best Bar Food Selection
This category is for venues that take real pride in their food offerings – while having food available is certainly part of being a responsible host, these bars take it to the next level, with food becoming a real draw card for the venue. This award is not about the food served in an adjoining restaurant, but the menu offered.
Hinky Dinks, Sydney
The Roosevelt, Sydney
Public, Brisbane
The Morrison, Sydney
Gardel's Bar, Sydney
Mary's, Sydney
Lui Bar, Melbourne
Grain, Sydney
Wine Bar of the Year
All finalists in this category must have a strong focus on their wine selection and the staff that serve it. The venue must have an atmosphere conducive to enjoying all things vinous and sport a stellar list featuring a well thought out and interesting selection of both local and international wines.
Virginia Plain, Melbourne
121 BC, Sydney
Must Wine Bar, Perth
The Winery, Sydney
Cabiria, Brisbane
Melbourne Supper Club, Melbourne
The Wine Library, Sydney
Lalla Rookh, Perth
Pub Operator of the Year
This award pays tribute to those individuals and companies that juggle the operations of several venues, including a hotel.
Fraser Short
Riversdale Group
Geoff Hayward
Drink & Dine
Damian Griffiths
Merivale
The Keystone Group
Ryans Hotel Group
Bar Manager of the Year
This award pays tribute to all the hard working bar managers who usually stay behind the scenes and who are seldom recognised for their dedication to the bar industry.
Evan Gamkrelidze Hugo's Manly, NSW
Perryn Collier Alfred & Constance, QLD
Mark Patterson The Brisbane Hotel, QLD
Julian Damjano Ivy Pool, NSW
Natalie Ng Mojo Record Bar, NSW
Lewis Jaffrey Baxter Inn, NSW
Ben Tua Mechanics Institute, WA
Cristiano Beretta The Rook, NSW
Bar Team of the Year
It's become a cult classic over the years and one of the most popular awards on the night. A cohesive bar team can make the difference between a good venue and a great venue. They all deserve a pat on back.
Eau de Vie, Sydney
Baxter Inn, Sydney
1806, Melbourne
Black Pearl, Melbourne
Mojo Record Bar, Sydney
The Wild Rover, Sydney
The Rook, Sydney
Kodiak Club, Melbourne
Cocktail List of the Year
Some bars pour their heart and soul into their cocktail lists, constantly researching and revising their lists to produce the best possible selection. But the biggest isn't always the best – the list must be easy to follow, take into consideration seasonal changes, drink trends, give credit where credit is due and always pay tribute to the classics.
Palmer & Co., Sydney
Eau de Vie, Sydney
Rockpool Bar & Grill, Sydney
1806, Melbourne
Black Pearl, Melbourne
Eau de Vie, Melbourne
Cushdy, Adelaide
The Bowery, Brisbane
Small Bar of the Year
Where would our industry be without diversity; without the little guy? This award aims to reward small venues (under 100 capacity) that are making big waves. Within years to come we hope to see this category grow as legislation right around the country has opened the door for a new wave of bars.
Mojo Record Bar Sydney
Bar Americano Melbourne
Bulletin Place Sydney
Whisky + Alement Melbourne
Air Raid Shelter Brisbane
Hinky Dinks Sydney
The Understudy Melbourne
Vasco Sydney
Training Program of the Year
This award rewards companies that make an effort to offer valuable training and education for the bar industry. The winning program must offer creative and innovative training that promotes professionalism amongst the next generation bartenders.
CCA, Mixxit
Pernod Ricard, Maison
Club Suntory
The role of the brand ambassador continues to grow; not only do these guys and girls champion their own brands, but they play a valuable part in the education and development of Australian bar culture.
Jared Plummer, CCA
Ben Davidson, Pernod-Ricard
Simon McGoram, Diageo
This prestigious award pays tribute to someone who has made a marked difference to the bar industry through their passion and dedication. As this is award is not a considered a competition no finalists will be listed. This year's winner is respected Sydney bar and hotel operator, Fraser Short.