Adelaide is making its presence on the Aussie cocktailing scene felt, with Glenelg's Eden Dining Room and Bar taking out the Angostura Barrel Aged Cocktail comp. The competition ran in 50 bars nationally, with the venues participating receiving a five litre charred oak barrel with which to age their cocktail, using Angostura 7 Year Old as the leaping off point.
The standard of drinks produced impressed the judges and as such they announced five runners up, including The Classroom, WA with their drink, A Little R&R; Glass Bar, QLD with Butterfly's Morning Kiss; Cookie, VIC with the Trinidad Tiger; Pelicano, NSW with their Batch #1 and Alfred & Constance, QLD with Soyeux au Seven.
But the winning drink, Angostura Manzanilla, was from Eden Dining Room and Bar in South Australia. They fermented apple juice with spices and honey, stopped the fermentation with the addition of Angostura 7 Year Old, which resulted in a drink that balanced flavours of dried apricot, sherry, and honey rounded out by vanilla and toasty, nutty characters — and a drink the judges went nuts for.
The winning team will have a private dinner and rum masterclass with Angostura's master distiller, Jean Georges, and each will receive and signed bottle of Angostura #1 Limited Edition.
ADVERTISEMENT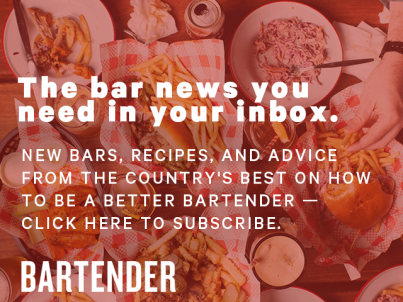 &nbsp