Overnight in London Drinks International's World 50 Best Bars 2013 was unveiled, with a strong showing for a number of Aussie bars. Melbourne's The Black Pearl took out the title of Best Bar in Australasia and came in at number seven on the list, followed by The Baxter Inn at number 8. Newcomer to the list, The Everleigh arrived at number 24, followed by Eau de Vie (number 25) and Bulletin Place (number 26). Also on the list was perennial bartender favourite Shady Pines Saloon, at number 41.
Taking out the coveted number one spot on the night (and for the second year running) was Artesian at The Langham, London.
Check out the full list below.
Artesian at The Langham, London
Nightjar, London
High Five, Tokyo
Connaught Bar, London
The Dead Rabbit Grocery & Grog, New York
Happiness Forgets, London
The Black Pearl, Melbourne
The Baxter Inn, Sydney
Candelaria, Paris
28 Hong Kong Street, Singapore
Callooh Callay, London
Employees Only, New York
PDT, New York
Dry Martini, Barcelona
Door 74, Amesterdam
Le Lion Bar de Paris, Hamburg
Buck & Breck, Berlin
The Parlour, Frankfurt
The Jerry Thomas Project, Rome
American Bar at the Savoy Hotel, London
Death & Co, New York
Ruby, Copenhagen
Schumann's, Munich
The Everleigh, Melbourne
Eau de Vie, Sydney
Bulletin Place, Sydney
69 Colebrooke Row, London
Chainaya, Tea & Cocktails,  Moscow
Mutis, Barcelona
Smuggler's Cove, San Francisco
Clover Club, New York
Bramble, Edinburgh
Le Forum, Paris
Zetter Townhouse, London
Floreria Atlantico, Buenos Aires
Lebensstern, Berlin
La Capilla, Tequila
Quinary, Mexico
Little Red Door, Paris
Le Coq, Paris
Shady Pines Saloon, Sydney
Attaboy, New York
Sherry Butt, Paris
Pouring Ribbons, New York
Tippling Club, Singapore
Drink, Boston
Tommy's, San Francisco
Baba au Rhum, Athens
Nottingham Forest, Milan
Delicatessen, Moscow
ADVERTISEMENT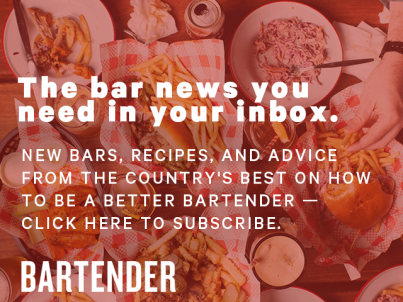 &nbsp