By Sam Bygrave
"The main point was, it was always going to be American Whiskey and wine focused with "real food" on offer – that never changed," said Andy Freeman when asked about the evolution of his new Perth bar, Varnish on King.
Food and whiskey are front and centre at the bar, located in the basement of a heritage-listed building. Freeman has shied away from creating another joint with a prim and proper attitude in the CBD, instead opting for a laidback, casual atmosphere. And though they offer a small number of whiskey-based classic cocktails, Freeman is adamant he's not doing another cocktail-led bar like his award-winning Luxe. No, here it's about whiskey, wine and beer and Freeman thinks that has been key to the bar's appeal.
"We offer awesome food, an awesome wine selection (over 100), awesome whiskies, picklebacks, boilermakers, whiskey flights – surrounded by '80s music and staff in sneakers," he said. It's succeeding because its different with broad appeal according to Freeman.
ADVERTISEMENT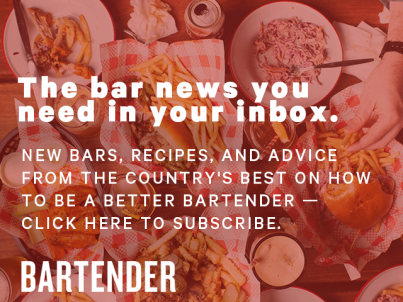 &nbsp
"It's a true hybrid of a concept that has hit Perth right on the nose – its appealing to everyone," he said.
The bar channels a 1920s kind of feel with plenty of exposed brickwork in the subterranean space, with polished timber floors and leather banquettes beneath a decorative timber ceiling — and the credit for designing the space can land squarely on Freeman's shoulders.
"I did the design myself," said Freeman. "Up until now, I had really only designed bamboo (the amphitheatre behind Luxe Bar) and a couple of personal projects – this is my first bar from start to finish!"
The design seems to take some of its 1920s cues from the site itself, which has a long history that dates back to 1921 when it was a warehouse. And, Freeman said, the concept hasn't changed much from conception through to final execution.
"The vision was crystal clear from the get-go," he said. "I sketched the drawings on paper and passed them to a draftsman to turn my scribbling into something tangible and legible."
In keeping with the American emphasis, the bar is keeping the cocktail list short, with a focus on classics, said bar manager Jamie Passmore.
"We aim to keep the cocktail lists as simple classics," he said. "Our wackiest variation is on the Boulevardier. We simply build it in a fancy highball [with] 30ml whiskey, 20ml Campari and 15ml Antica Formula, then top it up with chinotto and drop in an orange wedge."
But they do have drinks for the more adventurous out there too, he said. "If you want to try something a bit different, try a Rye and Watermelon-rind Pickleback. It is life changing."
The pickleback list is the area that really sees the bar and kitchen collaborating, said Varnish on King's chef, David Allison, and he belives that the food now goes hand in hand with drinking on a great night out. "It's all part of the experience," said Allison, "patrons are keen for a big night out but also the thought of a midnight Maccas run defeats the purpose of a night out. Being able to work closely with Andy and Jamie means I have a contribution to the bar because I create the pickle juice to match their choice of whiskey."
The straightforward approach to the drinks list applies to the food as well, he said, where the attiude is kept pretty casual. "The philosophy behind the food is pretty straightforward – clever and colourful share-style dishes with an American twist. The experience at Varnish should be conversational dining where you can share and talk with your friends about the flavours rather than eating one large main to yourself."
And it this easy-going attitude that is pulling in punters from throughout Perth and from all walks of life, said Passmore. "Being just in the CBD we see a few suits but just as many couples, hipsters, families, hospo guys – you name it!" he said. "Our only dress code is no high-vis so it's everything in between.".