By Sam Bygrave
"What? No. We can't stop here. This is bat country."
Those words of Raoul Duke — Hunter S. Thompson's fictional literary alter ego — open the 1998 movie, Fear and Loathing in Las Vegas, and have inspired the name of a new bar opening in Randwick: Bat Country.
"When we started talking about the concept," said Collin Perillo, bar manager and partner in the new bar, "we thought it would be pretty obscure, actually. We thought it would be an inside joke between friends, a bit of bar chat we'd give to our customers."
ADVERTISEMENT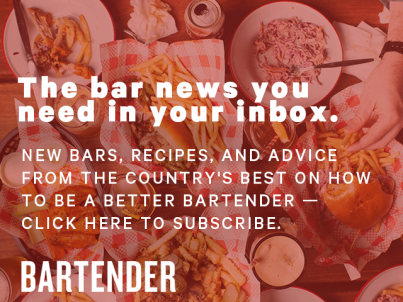 &nbsp
It turns out that a few people have understood the reference.
"It's blown my mind completely how many people are going, 'you mean the opening scene of fear and loathing where he's flippin' out on acid driving through the desert and he thinks that bats are swooping down on him?'" he said.
The bar is a partnership between Perillo (ex-Milk & Honey London, The Roosevelt, Mahiki), head chef Tim Dengate and barista, Aidan Morrison. The inspiration for the bar will draw on all things Hunter S. Thompson.
"The whole concept is that its going to be a Hunter S. Thompson-inspired venue," said Perillo. "It's not going to be a Fear and Loathing venue, there'll be a little bit of each of the books and a lot of the stories we've since become quite obsessive."
"Imagine the opportunities that opens up to me in terms of writing a cocktail list, the opportunities it opens up to [our] head chef," he said.
But what Bat Country will be, first and foremost, is a local neighbourhood bar. Perillo sees a unique opportunity to provide something in Randwick that simply isn't there right now.
"We plan to be a regulars' bar," he said. "It's not an easily accessible neighbourhood, but there's great neighbourhoods around here, with nowhere to go around here — which is obviously why we chose this spot. There's some lovely little restaurants, one of the most beautiful beaches in the world, the oldest cinema in the country just opposite, and nowhere to go for a nice drink."
The site is close to University of New South Wales, The Prince of Wales Hospital and a number of other businesses, and it's these people Bat Country hopes to appeal to.
"[There's] 25,000 educated people that if they want to go for a drink they've got to fork out $20 to go to Bondi or Surry Hills in a taxi which is a pain in the butt when they could walk here in two minutes," he said. "Hopefully we'll be the spot where they go after work."
The bar will trade throughout the day with a big focus on coffee as well great drinks and food.
"We're going to open from six in the morning," said Perillo, "and serving very high calibre coffee. We're going to have a Synesso machine, reputably the best machine on earth," he said.
"We do want to be noteworthy in the coffee industry as well. In London there are a handful of places that are lovely bars as well as lovely coffee places, and I can't think of one in Australia."
Comfortable is a word Perillo uses a number of times to describe the atmosphere they want to achieve with the bar — and the kind of place where Hunter S. Thomson would have felt at home.
"We would like the venue to be the kind of place where Raoul Duke would go to write copy," he said.
Bat Country is slated to open between the end of November and the first week of December at 32 St Pauls Street Randwick.