After a number of rounds, which have seen bartenders from throughout the country compete in a series of challenges, Mike Tomasic from The Wild Rover in Sydney has emerged victorious in the Australian round of the Angostura Global Cocktail Challenge.
To the winner, as they say, goes the spoils and not only will Tomasic jet off to Trinidad to represent Australia in the Global final, he also walks away $10,000 richer.
Six finalists drawn from rounds in Queensland, South Australia, Western Australia, Victoria and New South Wales met in Sydney on Monday for the first of two challenges, in which judges and the public ranked their favourite drinks. The finalists were Dave Meadows (SA), Evan Stanley (VIC), Luke Redington (NSW), Sean Chow (QLD), David Nguyen-Luu (WA) and Mike Tomasic (NSW).
One of Tomasic's winning drinks
ADVERTISEMENT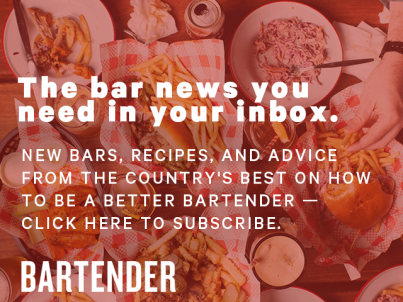 &nbsp
On Tuesday night, the second and final challenge took place at a recording studio in Sydney's Marrickville. Guests were piled onto a bus and taken to the secret location where they were greeted with Angostura Dark & Stormy's and plenty of rum punch.
Competition was close with each of the bartenders dishing out great banter and delicious drinks, but in the end, only one would get to walk away with the novelty-sized cheque for $10,000.
Tomasic also nets $5000 in stock for his venue, The Wild Rover.