By Sam Bygrave
Smell that? That smells like history…
There's a certain smell to Bourbon Street in July. It's there in the afternoon, when the asphalt is cooking from the sweltering heat. It's there when you leave the hotel lobby at seven o'clock at night and the sun is still out; it's there still, in the morning, after they've sprayed the streets with water and soap and the bubbles are left baking in the gutters in the morning sun.
It smells like a city that has seen its fair share of living. But hey, that's Bourbon Street for you. Get off Bourbon Street into the rest of the French Quarter and things get a little less stinky, but its still damn hot. And for five days each year these storied streets around Bourbon Street are home (and saloon) to the thousands of bartenders, bar owners and booze-pushers who descend on the town for Tales of the Cocktail. And given some of the setbacks the city has seen in recent times, that's a good thing for New Orleans and bartenders who make the pilgrimage.
You have to talk about Katrina if you talk about New Orleans. In August in 2005, Hurricane Katrina hit the city and exposed the flaws in the city's flood defences (many parts of the city are below sea level, and the rest are only a few feet above). New Orleans is coming back from that blow, but eight years on the city of some 370,000 (that's about the size of Canberra) has 100,000 people less living there than before the hurricane hit.
New Orleans is unique among American cities. It sits on the site of trade routes that have been used for a thousand years and more before the French arrived in in the 1690's. But rolling in from the Louis Armstrong airport to the French Quarter you don't immediately know you're in the world's richest economy. Buildings are somewhere between ruin and decrepitude, garbage is left unpicked on the sides of the road; homeless sleep beneath bridges next to run down motels only a few blocks from the heart of the CBD. It's no wonder Bob Dylan wrote of New Orleans "that the past doesn't pass away so quickly here. You could be dead a long time."
ADVERTISEMENT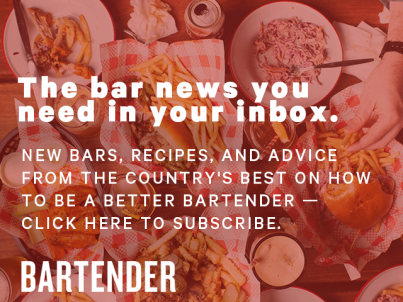 &nbsp
New Orleans is poor. 27 per cent of people live below the poverty line (compared to the national average of about 16 per cent). As you might expect in a town with so much poverty, there's a lot of crime in New Orleans, about twice the national average.
But when you have had everything thrown at you like New Orleans has, what do you have to lose? New Orleans doesn't just make lemonade out of lemons — it plugs a whole lotta booze in the mix and throws it in a hurricane glass.
Out of the poverty comes a city that isn't like any other in the states. There's music on the street, there's bustle going in a town that hasn't really got that many people living there. New Orleans makes Chicago look like a  New York knock-off. After all, this is the city of Louis Armstrong, Louis Prima, gumbo, the Vieux Carre, the Ramos Gin Fizz — the list goes on and on. But perhaps none shows its roots like the Sazerac.
Take me to the next bar!
The Hotel Monteleone plays home to Tales of the Cocktail; its grand lobby is a hive of activity as people flood in for the seminars and tasting rooms scattered throughout the hotel. And they also come for the Carousel Bar, and at the Carousel bar they drinks Sazeracs. Take a seat at the bar, but careful if you're already a few drinks in: the bar revolves, damn it, and ever so slowly (I guess the clue is in the name).
During Tales, your best bet at grabbing a seat on the Carousel Bar is to go earlier, when the seminars are on. In fact during Tales, these storied old bars of yesteryear are always going to be busy; they're marvellous things, that connect bartending as we know it today to a much longer history, and you get the feeling that a lot of New Orleans hasn't changed much. Head over to the Roosevelt Hotel, and if you're as hungover as everyone else at Tales you'll feel a little out of place underneath all the chandeliers walking across marble floors, trying to find the Sazerac Bar. Step inside here, and things are a little more sedate than over at the Carousel, but again you're going to be hard pressed to grab a perch at the bar with so many bartenders in town.
But New Orleans is more than just a history lesson. There's life in this town, making the most of what they've got. And it's more than just old bars and Bourbon Street. Go south towards the waterside and drop into Bellocq.
This bar saved my life. When you've had classic cocktails and high proof liquor up to your eyeballs, belly up to the grand bar at Bellocq and jump on their cobblers. They're low-proof, made with care, ornately decorated with the fresh fruit that adorns the bar and loads of cracked ice. A couple of sherry cobblers later and you'll be fine. The bar is named for a photographer, Ernest J. Bellocq who, born into a wealthy Creole family, took up photography. His work included photographs of places and shipping and landmarks, but it was the work he did on the side that he's remembered for. He took his camera inside the opium dens of Chinatown and into the parlours of prostitutes in New Orleans' very own red light district, appropriately named Storyville. It was a part of town, neighbouring the Treme and the French Quarter, in which prostitution was allowed in order to keep it out of other neighbourhoods. This experiment ended in 1917, just 20 years after it began — but the result, expectedly, was that prostitution and houses of ill-repute just set up shop someplace else. As the mayor of New Orleans at the time said, "you can make it illegal, but you can't make it unpopular."
On Chartres Street a couple blocks away from the Monteleone is Kingfish, named for another famous Nawlins native, influential Louisana governor Huey Long. The story goes that when he took over the governor's residence, he fired everyone in the bureaucracy that supported his opponents, replacing them with his own supporters. The deal was that he'd give them a job, and a percentage of their paychecks had to be put aside for is next election campaign. It was these tactics of influence that earned him the nickname of The Kingfish. The head honcho at the bar of Kingfish, however, is Chris Macmillan. He might be familiar to a few bartenders from his series of cocktail recipe how to videos on youtube — the guy is a walking enclyclopedia of cocktail lore, and during Tales that is lapped up. He is a big man, getting on in age, and bartending for a long time.  But you'll see him behind the stick at Kingfish — that is, after he's spent the day with other bartenders at Tales.
The Den at Howling Wolf on St Joseph Street has its own history. It's a live music joint that has had a few incarnations in different neighbourhoods since opening up in the late eighties. It's not the flashest bar — but I love the way I found it. It sums up the best way to drink abroad and why New Orleans is such a great city.
I was looking for a party that had been cancelled (unbeknownst to me). It was in a part of town a bit aways from the touristy area, and there weren't a lot of people around.
Then I noticed a couple of blocks up there seemed to be a load of people hanging out on a street corner. So I went up to take a closer look, but not before thinking twice about it. There were a bunch of hoomeboys hanging out on the corner — about a dozen or so. They were standing about, talking shit, leaning on their cars. The rich scent of dope was in the air.
But inside the bar there was a fat guy with mutton chop sideburns, sweating and generally cracking the shits as he worked the grill behind him. A menu board was above him, and on it written two beautiful words: beef brisket.So despite having eaten plenty, I pulled up at the bar and got a beer and a brisket sandwich.
It was the kind of happy accident that makes you forget how hungover you are, how far you've walked, how sore you're feet are. At that moment all you think is, "fuck this is good."
I had the same kind of experience at the Erin Rose Bar. It's an undistinguished kind of bar in many respects: there's a lot of shit on the walls, Guinness paraphernalia and that kind of stuff you usually see in an Irish bar no matter how far from Ireland you are. There's always clutter.
But the Guinness was good. And the eats from Killer Poboys even better. It's in the back oif the bar, shrouded in a cloud of cigarette smoke and some of the tasty food I have ever consumed between the delicious confines of a baguette.
Getting learned at Tales
Tales of the Cocktail is so big, it's hard to know where to start when you get there, particularly if you're a Tales virgin. Whatever you do, head to registration to pick up your tickets (you want to book your seminars well in advance if you can), get your guide book, and then hit up the tasting rooms.
One sure bet is that there's always something happening in and around the lobby — this is the big event of the year for the spirits companies in the US so they throw everything they've got at their "activations". And when you can grab a kickarse tequila cocktail in the street outside the Monteleone (drinking on the street!) like when Altos tequila rocked up with their street food van giving away tacos, caps and shirts (and tequila), well, you know its going to be a good day.
But you're also likely to want to learn a thing or two. There's always three or four seminars going on at any one time, so it helps to plan out your day each morning. The seminars change every year, but DC's Derek Brown gave some good seminar with his panel discussion on the idea of 'Paleococktails' (it seems that mixed drinks go back a long time) and you might even find yourself witness to a scholarly debate on the origins of, say, distilling in Mexico (could it have been happening before Columbus arrived?).
And then there's the drinks
The US is the world's largest economy and that means it has a hell of a lot drinks. Not that all are good — no one ever needed a blueberry pancake liqueur, for instance — but there's just so much bloody stuff available. Here's a few tasty finds.
If the put on another indie spirits tasting room next year, make sure you go to it. In that one room, in the space of ten minutes I sampled some 12 mezcals, most of which I'd never heard of before. There was a great table of Calvados, and a nice orange curacao from Combier (they make a mean kummel too).
Get a hold of Tomr's Tonic if you can — it's a tasty addition to gin and made by the head bartender of NYC bartender haunt The Beagle. And in case you can't get enough quinoa — its pronounce keen-wa if you ask me and I'm happy to engage in a drunken discussion of this — the micro-distillers at Corsair Distillery were showing off their own quinoa whiskey. Its made with corn and barley (because quinoa is a bugger to produce alcohol with due to a lack of convertible sugars) but there is a dusty quinoa aroma to it that is interesting if nothing else. These guys are distillers to look out for.