This former Rookie of the Year has only been in the game for three short years but  with her dirty jokes, love of quality movies and a dedication to the bar biz, she is definitely one to watch.
Career:
How long have you been bartending? 
Three years.
Where have you worked previously? 
ADVERTISEMENT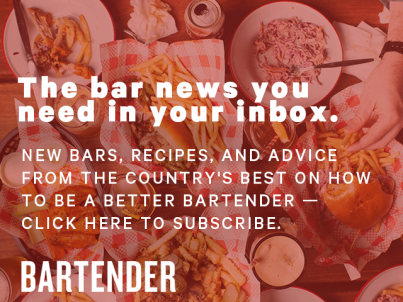 &nbsp
Cushdy, Onyx, The Collins and back at Cushdy.
Before you were bartending what were you doing with yourself? 
Working in hospitality in restaurants, hotels and gaming. I also did some retail work which sucks compared to bar.
What is your proudest moment behind the bar? 
Teaching some junior bartenders how to make particular drinks and then seeing them smile and their confidence increase when the customers love the product. Winning Rookie of the Year 2011 at the Bar Awards was also my proudest moment and my boss smile proudly.
And the most embarrassing? 
The day that a glass shelf cracked with more than 100 bottles of booze at Cushdy and everyone blamed me. Luckily only three bottles broke and all the top shelf tequila was still intact. Was a bitch to clean up!
How do you keep the 'chat' up while you're at work? 
More often than not I end up doing something "special' which gives guests something to laugh at/with and sparks conversation. I also like to take hints on their body language, dress, etc. and let them talk about their night so far or the event they just came from.
How do you prepare for competitions? 
Understand the market in which your drink will be consumed, double check all the criteria and decide how you meet that criteria. I also have a few "guinea pigs" who give me their honest thoughts of my entry. Perfect your entry and know the product and company well. Have fun with comps, sometimes you just have to wing it which is part of the excitement anyway.
What advice would you give a rookie bartender?
Learn as much as you can from those who have passion and love for the industry. Get them to fill you in on training sessions that many spirits companies provide and about the best resources to learn from such as the best books, magazines, internet sources. You can never know everything so dedicate yourself to providing the best service to your guests, as that is what bartending is all about. Lastly, be humble.
Favourites:
What's been your favourite bar to work in?
Cushdy. Shaun and Sheena Pattinson are wonderful employers. I've had some crazy fun times there and met amazing customers and industry reps who have become friends and worked with a great bar team.
What's your favourite bar gadget?
Japanese mixing glass and a really long bar spoon.
What's your favourite joke? 
Those who know me well know I've told this one too many times to count. It's a bit crude though (which is my style).
Q: What do you call a room full of women, half of them on their periods and half with yeast infections?
A: A wine and cheese party
What's your favourite movie? 
A Night at the Roxbury.
What's your favourite song? 
Stereo Love – Edward Maya and Vika Jigulina to make me feel like I'm back in the Greek Islands.
What's your favourite sport?
Kickboxing. I'm not one to watch sport, I'd much rather play sport.
What's your favourite cocktail?
Vieux Carre

30mls Rye Whiskey
30mls Sweet Vermouth
30mls Cognac
1 barspoon Dom Benedictine
1 dash Angostura Aromatic Bitters
1 dash Peychaud's Bitter
Combine ingredients in a mixing glass filled with ice and stirred down. Strain on the rocks in an old fashioned glass with a lemon twist.
Drink:
What spirit should people be drinking more of? 
Japanese Whisky.
Can you tell us some of your favourite bars to drink at? 
In Amsterdam, Door 74 for obvious reasons, and for a good laugh Banana Bar. For a bartender with the sexiest shake ever known and amazing drinks, Wall Street Bar (Paris), Experimental Cocktail Club (Paris). In Australia I'm fond of many bars but always feel at home at Black Pearl (Melbourne) and really enjoying many Perth bars in recent trips.
What is your favourite product to work with at the moment and why?
Different bitters such as Christmas, Spanish, Moroccan and Aphrodite Bitters in complimenting spirits in classics.
What is the weirdest or strangest drink you've ever had? 
A grilled cheese fat washed apricot brandy sour.
What's the most enjoyable occasion to have a drink? 
Anytime a drink has been bought for me and in the presence of good company.
What do you drink to…
Unwind after a long shift? 
Chartreuse, I even have it before as a 'knock on'.
Impress a date? 
The peatiest Islay single malt I can get my hands on at the time.
If you could have a drink with one person (alive or dead) who would it be and why? 
Some of my mates who live in London… past drinking sessions have been epic.
Rye whiskey or Tequila?
Tequila! Preferably from Phil Bayly's horn, or laybacks of Ocho 8 from my workmate Erin Shaw's cleavage.
Other Stuff:
What was the last book you bought?
To Have and Have Another – A Hemingway Cocktail Companion by Phillip Green.
What drink trends are popular at the moment? 
Savoury flavours have been popular in cocktails and I've had quite a few requests for Gin Old Fashioneds lately.
If you could have a superhuman power what would it be – why? 
To be able to listen in on secret conversations, sounds simple, but knowledge is power.
If you were to be something other than a bartender, what would it be and why? 
If not a bartender I'd love to work for Customs to assist in protecting our borders.
Where do you see yourself in 20 years time? 
I don't even know where I'll be in six months' time! I've always been intrigued by taking my experience into training and development but I'll just take life and its opportunities as they come.
Last drink ever – what would it be?
An Old Fashioned with Jose Cuervo Reserva de la Familia with Angostura Bitters, Dandelion and Burdock Bitters and an orange twist. I would down it pretty quick, so preferably more than one.