Could gin be the quintessential cocktailing spirit? It can be versatile: it can make feminine drinks as well as turn on the machismo; it can be strong, weighing in at a high ABV and it can be sweet, when a little Old Tom is called for. And it's got its rougher, proto-gin predecessor in the Dutch genever in case you want to get primal.
And the drinks it makes range from the simplest to the complex — hell, you'll find it in Trader Vic's old tiki recipes as well (hello Samoan Fog Cutter!).
So which gin drinks should you have in your repertoire? We asked some of Australia's best bartenders what they thought.
The Negroni
ADVERTISEMENT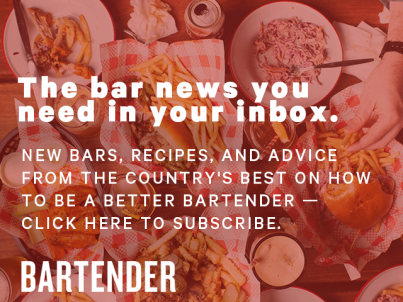 &nbsp
When it comes to gin drinks beloved by bartenders, is there any dispute about this drink's pre-eminence?
"[It's] the bartender's prime example of something that is more than the sum of its parts," said Charlie Ainsbury of Sydney's Eau de Vie.
"Three ingredients, equal parts in whatever vessel you want. Years ago I asked an Italian bartender what the best way was to make this drink. He said you can put it in a tumbler, cocktail glass, jug, vase or barrel… as long as it's equal parts gin, sweet vermouth and Campari, you can't go wrong. I don't even think of this as a cocktail anymore, it's just a Negroni," he said.
Bar Americano's Hayden Lambert makes a mean Negroni too, and has long had a fascination with it.
"My favorite gin based cocktail has to be the Negroni," he said. "I love one in hot weather or cold weather, because for me it screams nostalgia. It takes me back to a place in time in Italy where all I had to worry about was getting out of the swimming pool to start work 25 meters away, hard life."
And though he won't divulge his recipe, here's some advice he gave us on how to make a great Negroni.
"My secret for a great Negroni is to experiment with ratios, proportions, garnishes," he said.
The Negroni
1 part Campari
1 part sweet vermouth
1 part TMD Lily Pilly Gin
The Golden Fizz
Here's one you probably don't make often, that Lambert reckons you should take another look at.
"I can't go past a golden fizz, it's a simple gin fizz with the edition of egg yolk. The egg yolk gives the drink a great texture and faux creaminess that still remains light and ennobled, like a drinkable gin cream brûlée. It's a great sour that you don't see offered on many menus."
Golden Fizz
60ml Ford's gin
30ml lemon or lime juice
1 teaspoon sugar
1 egg yolk
Shake all ingredients with ice, and strain into a highball. Top with soda water.
Adapted from C.F Lawlor's The Mixicologist
The Southside
WA's James Connolly loves the Southside as it is a simple preparation that no punter ever turns down.
"Such simple recipes are easy to recreate in any bar and I have never had a customer turn their nose up at it. The fact it has gin in it…. I love it's freshness and simplicity."
Southside
30ml lemon juice
1 teaspoon sugar
60ml Aviation gin
2 sprigs of mint
Shake all ingredients and strain over ice into a highball.
Garnish with mint sprig.
Adapted from The Savoy Cocktail Book 1930
 The Ramos Gin Fizz
Ainsbury thinks that one of the all time great gin drinks is this one, the Ramos Gin Fizz:
"I'm gonna be 'that guy' and say the Ramos Gin Fizz, but before you roll your eyes and call me a wanker I'm telling you, I strongly believe this drink should not be frowned upon or be the butt-end of every lame bartender-to-bartender joke during busy periods of service: You're not funny. A silver gin fizz with cream and some orange flower water. That's it. Dry shake, add ice, shake well and strain. If you're still obeying recipes from the 1800s and taking everything word for word in your precious little cocktail book, you ain't working smart are you? Try it with almond milk too. Damn that's tasty."
Ramoz Gin Fizz
60ml Broker's Gin
15ml lime juice
15ml lemon juice
30ml cream
One egg white
3 drops orange blossom water
1 teaspoon sugar
Soda water to top
Dry shake then shake all ingredients except the soda with ice. Strain into a collins glass and top with soda.
London Calling
Tim Philips from Bulletin Place, Sydney loves a good Martinez — but he also recommends this drink.
"Although not a long lost classic, this drink is one of my contemporary favourites. Probably the only gin drink with citrus I'll drink when I'm off duty," he said.
"The London Calling is the only drink to appear on every M&H London menu, the London Calling was created around 2002 by Chris Jepson for a Drinks International magazine competition. The drink comes alive when paired with the unfashionable dry sherry and bitters. Nutty, dry, fruity, this drink has it all."
London Calling
40ml Beefeater 24
15ml lemon juice
15ml sugar syrup (1:1)
15ml fino sherry
2 dashes orange bitters
Shake all ingredients with ice, and strain. Garnish with grapefruit twist.