By Greg Sanderson
Greg has run Melbourne institutions Gin Palace, Murmur, and Black Pearl and is now co-owner and General Manager of Eau-de-Vie Melbourne. In 2012 he won the Australian Bartender Magazine Bartender of the Year.
I am by no means writing this article preaching from my high horse. Those who have met me or know me, know that I love my drink and should most certainly take my own advice on more than one occasion. I am writing this article, as I believe it is a topic we rarely discuss, and is often purposely ignored. I am of course talking about the amount of alcohol we bartenders generally consume in relation to what is deemed healthy and what 'civilians' generally drink.
I once read a paper written by the legendary Phillip Duff on brand ambassadors, while I was working as one, and to this day a single quote has stuck in my mind. "Some people simply can't drink at work, some people can get away with a few drinks whilst they work and for some people drinking is the job". Whilst I certainly believe that having a shot or two on shift, whether it is bought by a customer for you or given out by the manager after a few hours of solid work is totally acceptable, it is the dependency and necessity to drink whilst working that we should be careful of. When was the last time a customer has made you mad and the first thing you did was look to the back bar for your favourite whisky or tequila to shoot? Or you weren't really feeling it, so you had a drink to get in the mood, or you went into work with a rotten hangover and had a drink to 'get the heart started'?
ADVERTISEMENT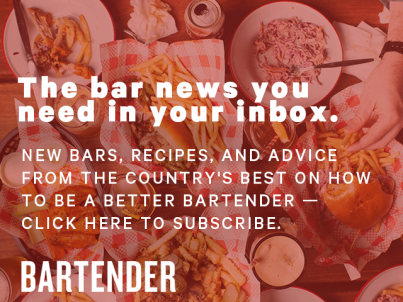 &nbsp
The typical week for many bartenders includes having a few drinks on shift, a few or many after work, training sessions with multiple tasters, industry events with free cocktails and then our days off filled with much more 'research'. According to government recommendations women should not exceed more than two standard drinks in a day, men should not exceed more than 3 standard drinks and this should include 2 alcohol free days per week.
We learn about the history of spirits, beer and wine, obsess over antique cocktail books, go to great lengths to become masters of mixing flavours, discuss it at great lengths so on the surface it would seem that we respect alcohol with all our heart. To truly respect this industry and liquor itself we also must respect that alcohol is a drug with addictive qualities and serious health risks.
I have worked in many different bars in a few countries now and each venue seems to have it's own culture and standard's established with regards to drinking at work. I worked in Scotland for two years and I recall having only a handful of drinks on shift, the entire time I worked there. On my return to Australia and moving to Melbourne, I entered a culture where it was acceptable to drink behind the bar and even worked in a venue where it was expected. I remember my first job in Melbourne and being given a shot literally two minutes after I stepped foot in the bar.
Dancing like a superstar, looking amazingly hot and sounding super smart and funny are not the only consequences of drinking too much. As bartenders we are responsible for our guests safety, pleasure and experience in our venues and can we seriously say we are at the top of our game after several drinks? I have walked into bars before where the most inebriated people in the venue are the staff. How can these bartenders make tough decisions such as gauging their customers' intoxication levels when they themselves are well over the limit? Not to mention how this looks to our guests. Not all guests in our venue want to see the bartender be the life of the party drinking with their customers. Think about how it looks if this is the consumer's first visit to your venue.
If after reading this you make no changes to your drinking, it is of no consequence to me. However if you work with someone who refuses a shot, instead of calling them a pussy, let them control their own alcohol intake. If you're thinking Greg is one of the last people who should be writing this, well, that is exactly why I am. It was in this magazine years ago where I was profiled and asked what are some of my industry secrets. I replied 'dim lights make me look good and Don Julio Blanco gives me great chat'. I am not contradicting myself, but self reflection -— and change — is never a bad thing.