Even just five years ago, spiced rum — not to mention spiced whiskey — was a rarity in the Australian market, with Captain Morgan's being the only brand readily available. But the success of Sailor Jerry and The Kraken have blown the market wide open and other spirit categories — like venerable old bourbon — have got in on the act.
Bar manager of Mojo Record Bar, Daniel Noble, points out that this development isn't entirely new; rather, people have been flavouring their rum with spices since the early days of the spirit.
"I think that spiced booze has a great place in the development drinking, from the Caribbean islands using spices and herbs in their rum as a way to ease the kill-devil down their throat and as a part of many traditions," he said.
Noble is a big fan of El Dorado's spicd rum he says. "It's mild, well-balanced and not a bomb of cinnamon and vanilla. Unfortunately the reason you don't see it on many shelves [is because that's] not what people want; they want the intense lolly characteristics of the newer spiced styles."
ADVERTISEMENT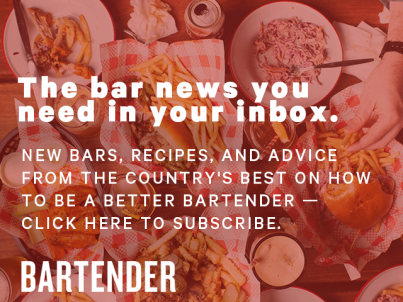 &nbsp
Noble said he had trialled the Wild Turkey spiced variant with his customers, too, though they were perhaps not ready just yet for spiced whiskies.
"The response was good, however most people did prefer the rum," he said. "Bourbon drinkers typically are bourbon drinkers — they order their label and they know what they like. Rum is misunderstood and almost feared by the customer, hence the niche market for spiced rums."
Naturally, the array of flavours these spirits boast can offer up new dimensions for mixing.
"When used properly and in moderation they can be mixed in cocktails," said Noble. He said he is currently using a spiced rum "as one of four rums in the Mojo version of The Zombie, [called] The Monster Mash."
"With its spiced elements it's a great replacement for velvet falernum. Two birds, one product," he said.
Given that these spirits are chock full of spice they make a great deal of sense when employed in drinks like the Hot Buttered Rum.
They also offer up a natural match with other complex and spiced mixers — like the underappreciated sarsaparilla, as we've used in a take on Jim Meehan's Silver Root Beer Fizz on page 40. The best advice is to get to know the spices that make up each spiced spirit and play around with different pairings from there.
Hot Buttered (Spiced) Rum
60ml Bacardi Oakheart
allspice, cloves
teaspoon sugar
50cent piece o' butter
90ml hot water
Add all ingredients then hot water. Grate nutmeg on top.
Silver Root Beer Fizz
30ml Matusalem Platino
30ml The Kraken
15ml lemon juice
15ml pineapple juice
1 egg white
60ml sarsaparilla
Dry shake, shake with ice, strain into a chilled Collins.
Top with sarsaparilla.
Adapted from a recipe by Jim Meehan in The PDT Cocktail Book
Bacardi Oakheart
Fresh tropical fruit, pear on the nose; great mouthfeel, vanilla, maple syrup and lots of fruit on the palate and a long finish.
Bacardi Lion 
The Kraken
Pours clear, dark squid ink black! Has a nutty nose with vanilla, coffee, and gunpowder. Slightly sweet on the palate with cola-like vanilla and a spicy, espresso coffee character and caramel, cinnamon cloves and gingerbread before a long, peppery, spiced finish.
Think Spirits
Wild Turkey Spiced
A nose of vanilla, cloves and ginger leads to a somewhat sweet palate of spices and vanilla, cloves and cinnamon, and a highly sippable finish.
Campari Gruppo
El Dorado Spiced Rum
It boasts a smooth taste and rich aroma. A blend of aged Demerara rums and carefully selected natural spices. It is delicately spiced with hints of orange, lemon, and cinnamon. The base rum is El Dorado, aged in oak barrels for 5 years.
Quittin' Time