Summer means that the annual boom in cider sales is upon us. Although it still accounts for just a small part of overall alcohol consumption in Australia, it is certainly on the way up, and ticks all the boxes of summer drinking: crisp, refreshing, sessionable stuff that will take you from the sunny afternoon to the stormy summer evening.
The range of cider available has grown considerably over the past few years — though the boom was arguably led by the success of international brands like Rekorderlig and Magners, recent years have seen a surge in local small scale producers getting in on the act.
Cider also makes a great addition to your mixing repertoire — particularly the number of flavoured ciders doing the rounds these days. Call us old fashioned, but we've opted for the straight up, balls-to-the-wall apple flavour for the following drinks.
ADVERTISEMENT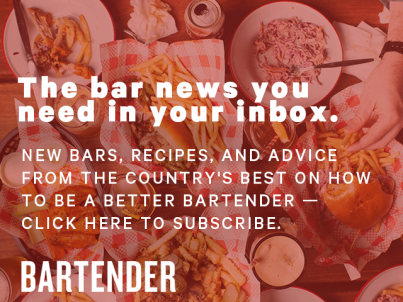 &nbsp
General Harrisons Egg Nog
1 egg
1 ½ teaspoons sugar
30ml rum or applejack.
Ice.
Fill with Somersby Apple Cider.

Shake hard and serve.
We like this drink because the egg in it tells you "hey, don't worry, you're getting your sustenance," and the cider refreshes. Look up the recipe in Jerry Thomas' How to Mix Drinks and you'll not see a reference to rum or applejack. Which is more the pity because the drink is fine without it, but a shot of rum gives it a good whack of gravitas. Think of it like a festive eggnog made for hot summer weather, and you'll be well on your way.
Stonefence
60ml bourbon
Ice
Top with Gaymers Cider in a rocks glass, give a little stir and serve.
We like the simplicity of this recipe. The story behind it, according to Dave Wondrich, has something to do with civil war battles and the storming of a fort or something or other. Which is to say, who cares? You have bourbon, you have cider — why complicate things? If you need to get fancy you can add another dimension with some bitters, but you're best off taking your bottle of cider and your bottle of bourbon and going off to sit in the sun (make sure you pack plenty of ice).