What's it like to start your own spirits company, and travel the globe spreading the word? Simon Ford knows what it's like. Ford has been in Melbourne last week and is in Sydney this week to show bartenders his 86 Spirits Co range (which he created with partners Dushan Zaric and Jason Kosmas — click here for an in depth read). We chatted to him about what the past year has been like, and about getting behind the bar at some of the country's top bars for rockstar shifts during his visit.
We spoke to you back in April of 2013 — can you give us a quick rundown on what the last year has been like for you?
It's been a great but stressful adventure so far. Starting a spirits company has been the toughest challenge of my career. On the surface everything has been fantastic, the spirits have been winning awards and I see our spirits in discerning bars that I love all over the USA. That has been really rewarding. Behind the scenes has been a whole different world, delayed containers, US government shut downs causing importing issues and so on. After 20 years in the hospitality industry I thought I knew quite a bit about it but now I am realising how much I still need to learn.
What feedback have you had from the Aussie trade so far?
ADVERTISEMENT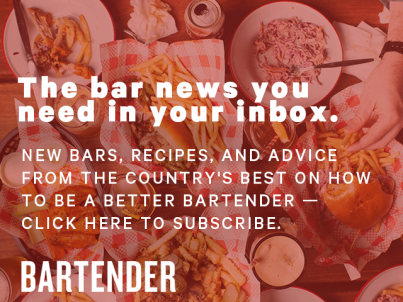 &nbsp
Australia still remains as one of my favorite places to visit. The cocktail bars that I have visited so far really have found a great balance between professionalism, knowledge and making killer drinks whilst providing a great experience and a good time. It's been really rewarding presenting The 86 Co's spirits portfolio to everyone so far and as far as I can tell everyone is enjoying what's inside the bottle which is the most important part. One interesting observation for me is the peaked interest people have shown when I tell the stories of how and why we created the company, the challenges we faced setting up and the process of how we developed the formulas and recipes of each of our spirits.
You're looking at doing some rockstar shifts while you're here — are you looking forward to it? Why are you getting behind the bar?
Our spirits are all about how they work in a mixed drink and so by being able to get behind the bar and make drinks for the people that usually make me drinks is a nice way for me to say thanks for coming by to taste our spirits.There is also that moment behind the bar when things kick off and you get in the zone that can be so satisfying. With that said, I did my first rockstar shift at the Black Pearl last week and discovered how rusty I am behind the bar. I was forgetting recipes and putting equipment back in the wrong place each time and so on. So if anyone wants a good laugh they should come and check out one of my shifts. I can still make a good drink though – honest!
For more information on Simon's visit and the outstanding 86 Spirits Co range, contact James France at james@vanguardluxurybrands.com or call 1300 DRINKS.