Nieuw Amsterdam
106-112 Hardware Street, Melbourne
nieuwamsterdam.com.au
Owner Michael Roszbach (ex-Cookie) has drawn on his Dutch heritage for Nieuw Amsterdam, which is being described as a New York-style bar and eatery.
Picture marble bartops, glitzy gold art deco designs and dark wooden panelling and you can see the New York emphasis, which takes it a long way from the site which once housed an Irish bar called Puggs Mahones.
ADVERTISEMENT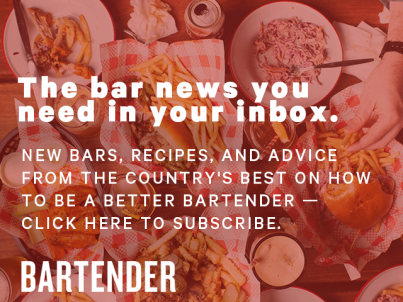 &nbsp
The drinks menu is comprehensive, with the cocktail list divvied up into 'Spritz'd', 'Sweet & Sour', 'Stiff', 'Negronis' and 'Formulae from Friends', a section with recipes from bars in Melbourne and as far afield as Bourbon and Branch in San Francisco. The tastes on offer range from straight up classics like a Vieux Carre to more inventive riffs on standards, like the Pho King Julep (Vida mezcal, habanero and grapefruit marmalade, vietnamese mint on crushed ice).
Beer is clearly a big focus for the bar (we counted no less than 26 bottled beers and 12 on tap — plus seven large format sizes for sharing!).
All this good grog is designed to go with a thirst-inducing food menu — the bar menu incoprates regular bar snacks like olives, nuts, and potato chips (well, they're Dutch potato chips here) but you can also grab pork trotters and ham hock nuggets and Spanish boquerones with white anchovies.