These top training programs can give you more tools to work with.
Club Suntory got recognised at last year's Australian Bartender Bar Awards for the excellence of their training program, so we asked Club Suntory Manager Hayley Morison how they keep things interesting and what companies like Suntory have to offer. Here's what she had to say:
"With so many companies in the market providing trainings to bartenders,  It's important to keep the sessions interactive, with a point of difference, whilst also integrating humour. This helps relax and make the attendees more receptive to the information being presented – we are learning about alcohol after all, something we are all so passionate about. It's vital to keep the attendees engaged using a variety of activities within the training, such as videos, mini competitions, touchable educational material, and times when they can get up and actually sample the product and experiment making the cocktails themselves. The training from companies like Suntory help bartenders from all skill levels. Trainings can come in all different forms, aimed at the rookies through to the more established  bartender that may have a few years under their belt. It's just important to keep things fresh, and relevant, because the industry is growing so quick, you must keep your finger on the pulse at all times.  I predict 2014 will be a big and exciting year for all in the training department (without giving any secrets away!)."
We brought you the news last year that Pernod Ricard had launched a new initiative that delivers 11 training modules via rich iPad-based media, and which when completed lead to a qualification with Switzerland's Ecole Hotelier in Lausanne.
ADVERTISEMENT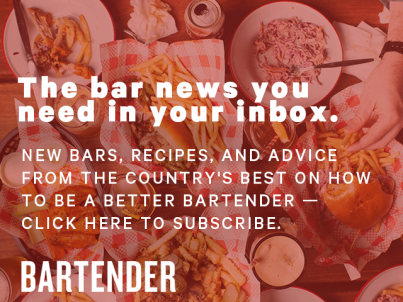 &nbsp
Pernod Ricard's Brand Education Manager, Ben Davidson has conducted 64 Maison training sessions around Australia in 2013 (which saw them garner a nomination for Best Training Program at the 2013 Bar Awards), and the calendar for 2014 is already jam-packed with opportunities for bartenders to attend the modules and become part of the program. Here's what Ben had to say:
Maison is designed for new and experienced bartenders who are already engaged in the industry, who are hungry for knowledge and are looking to further their career in hospitality. Maison kicks off again in January with sessions in Sydney, Melbourne and Brisbane and Perth in February. Bartenders are reminded to keep an eye on the Facebook Group page to hear about the location and dates for upcoming sessions, and the program has already seen some great success.There are approximately 40 bartenders over half way through the programme and I'll be looking forward to celebrating their 'graduation' in the first half of 2014."
Bacardi Lion isn't new to the on-trade training world either. Their Sensology program isn't a one-sized fits all endeavor; rather, the training team of brand ambassadors like Loy Catada, Chanel Liquori, James Wynn-Williams, and Sean Forsyth work with managers and staff to develop a tailored approach appropriate to the venue.
They've broken their training up into modules such as PEC (which covers presentation, efficiency and consistency), Bacardi Belief (covering the history of rum and rum cocktails), and the Bombay Sapphire Company Flavour Experience, which tackles botanicals and how to work with gin and was developed along with Dr George Dodd of the Aroma Academy. They've also got modules which touch on vodka, tequila and whisky that are worthwile looking at.
Check them out in 2014 as they're going to launch a new Grey Goose-related Field to Bottle module that looks at how what a product starts out as influences the end result, and another one called the Cider Experience that utilises their new brands, Magners and Gaymers.