Strasse
126 Pakington St, Geelong West
strassebar.com
We brought you the news last year that veteran bartender and Australian Bartender contributor Nick Reed was opening his very own bar with his good mate Paul Marinelli in their hometown of Geelong. Reed informs us that the bar has been ticking along nicely and is getting where he wants it to be, so we thought it high time to get a look at it.
Reed said they were aiming for a more mature drinking clientele.
"We wanted a place that the older demographic of Geelong would enjoy drinking in with all the fineries of a big city venue minus the pretentiousness that often comes hand in hand with such a concept," said Reed.
ADVERTISEMENT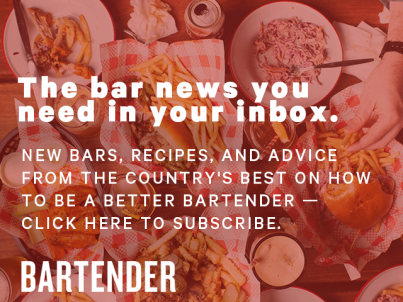 &nbsp
"I guess our tagline of 'Food. Drink. Banter.' pretty much sums it up."
The venue draws heavily on street art for its design, said Reed. "Strasse means Street in German and we have used this urban influence throughout our decor and food offering," he said.
They've got ex-1806 staffer Georgie Mann to thank for the interior design, he said. "[She] really impressed us with her pitch and managed to turn the ideas of two straight guys into a cool space full of energy," said Reed.
"We also had well known Melbourne artist Ghost Patrol do two large pieces along both walls in keeping with the Street Theme."
So far guests have been rapt with the cocktail offering, with Reed tailoring drinks to suit each customer, and their approach to selling top
end wine by the glass has also proved popular.
"Patrons are also enjoying the Snob's Selection concept which sees Paul pick a new $60-plus bottle of wine each week, and open it up to sell by the glass. Once the five glasses are gone for the weekend… that's it," he said.