The Zombie
30ml Lime Juice
15ml Don's Mix
15ml Falernum
30ml Bounty Spiced Rum
30ml Bounty White Rum
15ml Bounty Overproof Rum
1 dash Angostura Bitters
5ml Absinthe
10ml Grenadine
Shake everything with ice and dump into a big tiki mug or glass. Cap with crushed ice and garnish the heck outta it.
Adapted from Jeff Berry's Sippin' Safari
By Sam Bygrave
Photography by Steve Brown
ADVERTISEMENT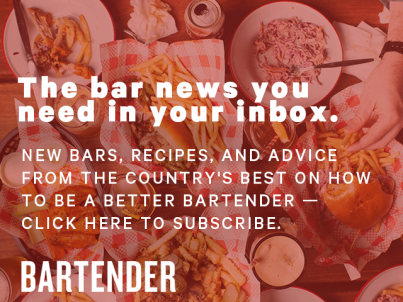 &nbsp
Imagine for a moment you're in Los Angeles, 1934: that experiment of Prohibition had finished and bars were springing up everywhere. The biggest Hollywood stars of the time were Clark Gable, Fred Astaire, Ginger Rogers, and Charlie Chaplin. And you'd be able to sidle up next to them, chow down on some faux-Chinese food, and if you were a man, smash one or two Zombies (but two was the limit) at the bar at Don the Beachcomber.
Donn "Don the Beachcomber" Beach was born Ernest Gantt, the son of a New Orleans hotel owner who tried his luck on the unsearched lands of Texas to find oil (what's known there as a wildcatter). Gantt was given the choice by his grandfather to either go study or go on a trip — and he chose to travel, ending up in places like Singapore where he downed a Singapore Sling or two and giving him the inspiration when the day came, in 1934, to open a bar.
He managed to talk the owner of a hotel in to giving him a little 25 seat place to get a bar up and running; he met his future wife and business partner there, they moved the bar across the street and Beach's take on exotica took off with the LA scene.
They made the signature cocktails — like the Zombie here — behind the bar so that the punters couldn't see what went into them. Because of the popularity of the bar, other owners would poach Beach's staff, paying them $10 a week more and getting Beach's precious recipes in the process.
To counter this Donn would come up with things like "Donn's Mix" (which Jeff Berry has worked out to be a mix of grapefruit and cinnamon) to obscure the ingredients that set his drinks apart. When you've lived on your charm and your wits like Donn Beach, its best to keep some secrets to yourself.
The rums are the other thing that set Beach apart — after Prohibition ended, there was a great glut of rum about, and it was the cheapest thing going. Using a mix of rums allowed Beach to create something you just couldn't get in other places.
So with tiki in mind we've pulled together a range of Fijian rums for this drink. Bounty rums are rich and powerful; use the overproof sparingly, and play around with the proportions of the rums in this drink to come up with your own secret mix.
Tasting Notes

Bounty Overproof Rum
Rich, dark mahogany in colour with intense dried fruit aromas. Rich, hot, thick texture, with dried fruit, spice and liquorice on the palate.
Bounty Spiced Rum
Light gold in colour, with aromas of vanilla and spice. Subtle, with caramel, vanilla and clove characters on the palate.
Bounty White Rum
Clear and bright, aromas of citrus and coconut. Soft and warm on the palate, with a dry finish.
For more information on Bounty range of rums, contact your CCA representative.