The Bar Manager of the Year award at last year's Australian Bartender Bar Awards was taken out by this guy, Mark Patterson. It's a big deal of an award: just to get nominated you need to be the kind of manager that is respected across the industry, and some big names have won it in the past.
We thought we ought to ask Mark a few questions on how he got to where he is today, and to get some advice on what it takes to run a successful venue.
What's the attraction of the bar business for you? 
The people. Working the bar trade is a lifestyle choice where I get to host a great party every day, sharing the good times with my friends.
ADVERTISEMENT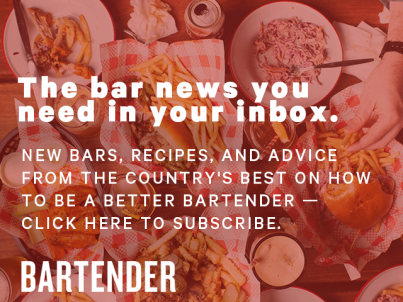 &nbsp
How long have you been in the role at The Brisbane, and how have things changed since you started?
I have been involved with The Brisbane since its inception 9 years ago. Coming up to our 10th birthday this year… amazing. At the beginning we were one of the first to bring a new style of pub to Perth with great, real drinks along with fresh food and great service. It has been exciting to see many new places over the years take up the torch and the bar scene in Perth evolve into a world class offering.
Tell me a little about the venues you've worked at before…
I started my career in a cocktail bar in the 80's where Frozen Daiquiris and Pina Coladas were de rigueur. I was lucky enough to be involved in the birth of the craft beer revolution in the early 90s with Matilda Bay Brewing company in a couple of their pubs here in Perth. Introducing people to European style beers with a thick dense head and served with fruit was a unique challenge, in an environment where you could only get 'super or gold' on tap. It was here I learnt a lot about the 'theatre of service'. Later, after opening the casino in Cairns, I was bitten by the snow bug. I spent the next 10 or so years working in some great resort bars through Europe and North America, coming back in the Australian winter to run The Pub in Perisher NSW. I finally gave up the globetrotting lifestyle and after a couple of stints in various bars and restaurants I came upon the opportunity to launch a new concept for Perth, The Brisbane Hotel.
How do you manage the challenge of a large, busy venue? 
There are of course a number of well developed systems and procedures that provide the framework for our operation. The key to a successful operation though is the people. I am very lucky to be surrounded by a team of industry professionals, most of who were trained in to the role whilst working here. Having them take ownership of the pub and inspiring them to learn and be more is how the challenge is met.
Where do you draw your inspiration from?
Being located in one of the world's most isolated cities can make it a little difficult to stay abreast of emerging trends. Referencing quality industry publications bridges the gap and keeps me informed about what people around the world are doing and inspires great new ideas. Bartender magazine is key to this and I feel really helps bring the Australian bartending community together. Knowledge is king and being able to draw on the collective wisdom of our community helps move us forward.
What excites you about the Perth bar industry? 
The scene here has exploded in the last two years with so many quality new bars opening, particularly in the small bar scene. I am especially excited to see people beginning to really specialise. I think this has always been the purpose and strength of these bars. There are great cocktail specialists like Luxe, Classroom, Mechanics. Spirit specialists are appearing like Varnish for whiskey, Enriques for gin or El Publico for tequila. Can't wait to see what's next.
What does it need more of? Less of? 

More professional and dedicated people who believe in this industry as a career.
Less vending machine bars. A skilled bartender will always make a drink better than a canned or bottled version.
You won Bar Manager of the Year at last year's Bar Awards. Can you describe what that was like?
An unexpected and humbling experience. To be recognised for simply doing what I love to do was both surprising and at the same time very exciting. To be in the company of previous recipients is truly an honour and something very special to me.
What mistakes have taught you the most important lessons? 
A bit cheesy I know, but the only mistakes are the ones you fail to learn something from. A lesson from an early mentor that has stuck with me over the years is: the only bad decision is to not make a decision. As long as you get it right more than half the time, you will be moving forward.
Are there any local or international bar operators that you admire? Why? 
Geoff Hayward for his out of the box thinking. He has a very distinct picture of what he wants and excels at clearly communicating this and getting people to join him in his vision.
Vernon Chalker also has that same ability to envisage something unique and different and follow it through to the smallest detail.
I admire also what Anton Forte and Jason Scott have done in finding a niche and committing themselves to making it work.
How important are staff in operating a successful business? 
The staff are your business. The nicest place with the best booze is nothing if you are not greeted with a smile and made to feel welcome. We are entertainers on a stage, here to facilitate a great experience for people.
What is the key to creating a great staff culture — what do you look for in new hires?
Having staff involved in the direction of the business gives them ownership of what they do and helps create a great staff culture. When interviewing new hires, we are looking for what they can bring to the job. Skills and past experience are important but likewise an eagerness to learn with an engaging smile and outgoing nature.
What are you drinking right now? 
Right now I have actually made it home after a big Christmas lunch and poured myself a Montenegro digestif.
It's last call at The Bar At The End of the World. What's your last ever drink? 
A shot of Hudson Manhatten Rye chased with Brew Dogs Sink The Bismark.