You know you've all heard it before, that customer who comes up to the bar, flicks through your menu as says: "just make me something good." And perhaps you've been a bit stumped for a drink to make them — you've flipped through the classic drinks in your head, and nothing is coming to mind. You're busy, the customers are queuing up, and you need to whip up something that tastes good, that's a little different, and that the customer is going to love. What are you going to do?
For a creative twist on a classic drink, you could do worse than looking through your bar fridge — those rows of flavoured ciders that have been flying out the door over summer offer up a quick, creative twist to a lot of classic drinks.
"Making cocktails with cider is similar to making drinks with ginger beer or tonic, only with a bit more kick," said Rekorderlig's newly appointed global ambassador and former bartender at The Alchemist in Melbourne, Joel Persson.
Cider can be easily switched in for the soda in a fizz, for example, adding new dimensions to the drink's flavor profile. We used Rekorderlig's Strawberry & Lime Cider in the classic Southside Fizz (shown here). The idea is simple: take a classic drink you know, switch out one of the ingredients for cider, and away you go.
ADVERTISEMENT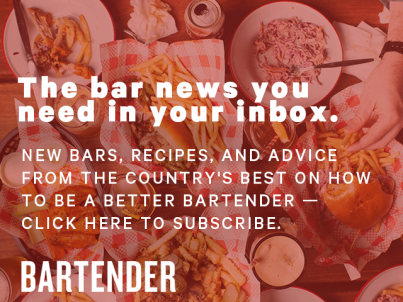 &nbsp
If you want to expand your creativity further, you can start with cider and let that inform the drink choices you make.
"Start out from the flavour profile of the cider and let it inspire you to create," suggested Persson. "There's no right or wrong when it comes to spirits to use; sometimes opposites attracts. I made a whiskey cocktail with the Orange and Ginger cider which ended up great. As an indicator, though, summery light flavours like Strawberry & Lime and Passionfruit tend to match easily to lighter spirits like vodka or gin, while more autumn heavy flavours like Wild Berries and Apple Blackcurrant match with whiskey and dark rum," he said.
As for riffing on the fly, mid-shift, Persson reckons you shouldn't get too shackled by other people's ideas.
"Look for your own inspiration," he said. "It can come from anywhere: flavour, concept, even from a specific garnish or drinking vessel. It's similar to when an artist creates, sometimes the final picture is already there and all you need is to cut it out or paint it out but sometimes it starts with a single line with the paint brush with no clue to where its going to lead."
Strawberry & Lime Southside Fizz
60ml gin
30ml lime
15ml sugar syrup
6 mint leaves
Top with Rekorderlig Strawberry & Lime Cider
Shake all ingredients and strain over ice into a highball. Top with Rekorderlig cider and garnish with mint.