Travelling the world to spread the cider word
How did you get started as a bartender?
I've been in the restaurant business for almost 10 years but I didn't get into bartending until I finished my education at IBM (International Bar Management) in Sweden.
After school I moved to Stockholm and worked in cocktail bars but really fell in love with flavours and mixing at Orangeriet cocktail bar — that was my first real classroom!
After two years I moved to Melbourne and kept doing what I love. The Australian bar scene is so vibrant and collaborative, every day was an adventure. I have many friends in Australia still and I hope that I've taken some of their inspiration and enthusiasm around the world with my Global Brand Ambassador role at Chilli Marketing.
ADVERTISEMENT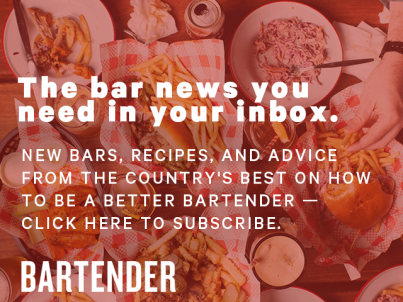 &nbsp
What do you love most about working with alcohol, flavours, cider?
Being a bartender is like constantly being part of a big celebration. People go out to have fun and have a good time, there's nothing better than being in the middle of that.
Working with alcohol mixing flavours together satisfies my appetite for creation and working with Rekorderlig gives me a constant opportunity to play around with new flavours and concepts. It's an amazingly versatile liquid with such genuine flavours – it's a fantastic base or ingredient for a cocktail but on its own, served over ice, with a wedge of lemon or lime, it's a beautifully refreshing drink.
Is cider an import liquid in Sweden? Swedish ciders are quite new to the world right?
Cider as we know it with an alcohol content higher than 2.5% was classified in Sweden as "Apple Wine" all the way up to 1990.  After the Swedish classification changed when we joined the European Union, Sweden started making its own cider in its own unique way. Brands such as Rekorderlig started to utilise this higher ABV classification and our sweeter style of cider was born.
In Sweden our cider style is sweeter than the classic ciders of England or France, but we revel in this. Just like whiskies differ from region or country, we are proud of our style of cider and love how it can widen the category and in turn the consumers choices!
How did you get involved with Rekorderlig Cider?
It was a collection of lucky meetings to be honest through friends in the bar trade which led me to the Chilli Marketing team. I had a friend who recommended me to them as they were looking for someone to help them with events and general mixology. Initially I wasn't sure ,as it was a little out of my comfort zone, but when I met the team it was totally different. They spoke so passionately about the brand and how they wanted to work with bars and bartenders that I was immediately excited to get involved.
Being offered a chance to play around with all those unique flavours and put my own touch on it was an offer I could not resist.
I continued to help Rekorderlig out as their private mixologist and bar consultant across countless events. The team at Chilli (the global brand owner of Rekorderlig Cider) were always encouraging me to be creative and innovative with the liquid and over time we began talking about taking my role around the world.
Now as the Global Ambassador I'm able to take that innovation and excitement about the brand to new bars across the globe. It's been a dream to travel and work with a brand I love as well as one that I also really believe in — I feel very lucky.
What is your goal/ plan as the global brand ambassador? 
To spread the word of Rekorderlig further across the world and educate bartenders about the difference between sweet and dry cider and teach them that there's room for both. It's cheesy but I'd love to add creativity and innovation into the cider category passing on that inspiration I've been given all through my career by other bartenders.
What do you love about Rekorderlig as a cider, and as an ingredient in drinks?
On a hot day I want something fresh, fruity, cold and served over ice. There's no better moment for a Rekorderlig Cider.
But equally, working with Rekorderlig Cider has opened my eyes to not having to base all cocktails with traditional bases like Gin and Vodka. Beer and specifically cider can give you a great new base to start with and all of the innovative flavours in the Rekorderlig portfolio  have given me a never ending inspiration of concepts for every occasion.
What is so important about serving Rekorderlig in its perfect serve?
Every drink has its own special way to be served to reach perfection. The cold bottle poured over ice served with the bottle on the side and a squeeze of citrus makes Rekorderlig into a perfectly fresh and balanced drink, almost like creating a cocktail. Drinking the cider straight from a chilled bottle is fine by me but it lacks the amazing twist and clean flavour of the perfect serve.
What is your favourite cocktail at the moment to make with Rekorderlig?
Here in the UK winter is upon us and the Rekorderlig Hot Toddy has saved me from many cold days and nights. It's a simple heated brew that anyone can make and tweak at home. I've been taking it with me in a Thermos to ice-skating and winter wonderlands all winter.
Mix Rekorderlig Winter Cider with spiced rum, honey, lemon juice, cinnamon and bitters. Heat it up and keep tasting it until it's perfect. I throw a couple of star anise and cloves in the mix for good fun.
As the global brand ambassador – where are your hot spots for a Rekorderlig when you are on your travels?!
In New York you have to hit the The Crosby St Hotel in Soho, Lower Manhattan! Perfect place for a Rekorderlig Pear after a day in the
Big Apple!
In Miami it's all about the The Broken Shaker at The Freehand, get out of the heat and have a Strawberry-Lime. Say you know me and you'll pay full price!
When you're in London hit Refuel at the Soho Hotel — they can give me a run for my money on a Rekorderlig cocktail there!
And back in Australia – well it's got to be a Passionfruit Rekorderlig at the Watsons Bay Hotel on the harbour in Sydney. Possibly the best view in the city and a cracking bar too!