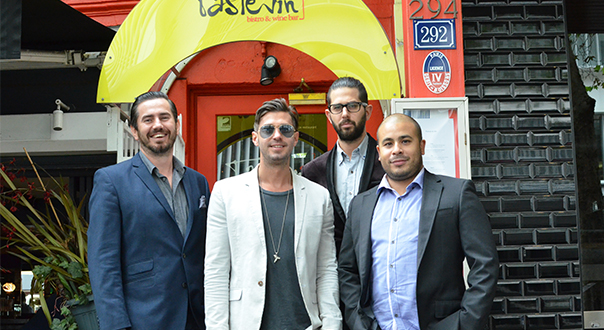 From left: Simon McGoram, Dominic Carnevale, Joshua Evans, and Eddie de Souza
Fresh from the success of the bar and eatery in Bondi, the team behind Neighbourhood are eyeing an opening in Darlinghurst.
Simon McGoram, Eddie de Souza, Dominic Carnevale, Alex Howell and Joshua Evans have taken over the Taste Vin site on Victoria Street, opposite from the Tropicana.
"We're going to be calling this joint Henrietta Supper Club," said McGoram.
"The reason we're calling it that is because Governor Lachlan Macquarie's wife was called Henrietta," he said. "And Darlinghurst, before Governor Darling, used to be called Henriettatown."
ADVERTISEMENT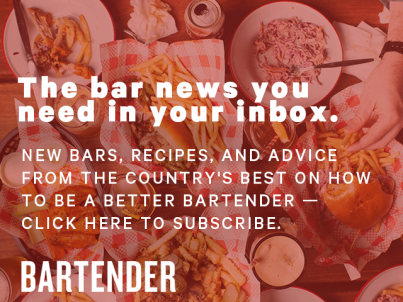 &nbsp
The new restaurant and bar will have a serious food offering out front, with a bar at the back of the space. Expect drinks to be divided into "ladies parlour, and then the gentleman's club cocktails as well," said McGoram.
"Expect to see, on the ladies parlour, your Clover Clubs and Southside Fizzes, but then it might be a Jockey Club or a Turf Club — all your club cocktails — in the gentleman's club section, your more stirred down sort of stuff."
"We're looking at having a much stronger wine offering," he said, "and it might take us a while to build up our wine offering, but we're looking at having a 100-plus wines on the list — getting a bit more serious. A strong focus on old and new world wines but it would be down the Italian rather than the Francophile route."
Food-wise they're looking to update nineteenth-century flavours. "Having a modern take on a Welsh rarebit, or scotch eggs," he said.  "We might do little pigeon pies or something like that — that old fashioned flavour, but modernised," said McGoram.
They plan to open six days a week, from Tuesday to Sunday, with late trade happening on Friday and Saturday nights to make use of their late restaurant licence.
"As we get older, our palates change, our idea of going out completely changes," de Souza. "Now that we're in our late twenties and early thirties, you want all of it now. We're building a venue that ticks all the boxes: food, wine, cocktails, spirits, beer, and music," he said.
They expect to open the doors to Henrietta Supper Club in late May.