Mike Tomasic, centre, celebrates after winning the 2014 Angostura Global Cocktail Challenge in Trinidad.
Mike Tomasic, winner of The Angostura Global Cocktail Challenge and bar manager of Mr Moustache in Bondi gives us an insight into a winning combination for taking out the top gong.
1.     Remember to have fun
ADVERTISEMENT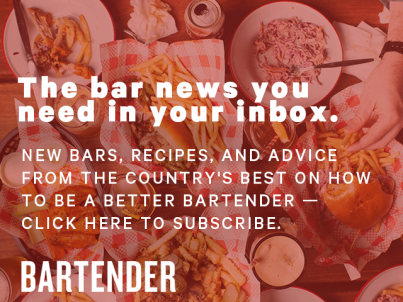 &nbsp
First and foremost, remember this is the experience of a lifetime, so soak it all up and enjoy it.  From start to finish, Angostura makes sure the emphasis is on the competing bartenders having a good time. There's a lot going on and you have an extremely jam-packed schedule; at one point I had 3 hours sleep in 48 hours!
The comp is always held during Carnival, so while you have to work hard, but there's lots of play too!  We went to one event called J'ouvert.  You wake up at 2am, after going to bed at 1am and you hit the streets, walking side by side trucks filled with booze; you grab a few beers, rum, whatever tickles your fancy.  Then there are trucks alongside filled with paint and mud and everyone dives in, buckets, hands, throwing it at each other and goes crazy! Check out this vid to give you an idea! (http://www.youtube.com/watch?v=PpgETAkTkgw)
2.     Take all your ingredients with you
Take every single ingredient you need with you. I took everything with me, including Angostura Bitters!  The one thing I didn't take for one of my cocktails was Fernet Branca, as I couldn't fit it in my bags. I was told they'd have it there, but the day before the comp, I still couldn't find any on the island. One of the bigwigs from Angostura ran all over Trinidad trying to find it the day of the competition. Two hours before getting on stage to present my drinks, two soy sauce containers arrived and both looked like Fernet.  The first was Branca Menta, which got me worried; thankfully the second was Fernet Branca.  I got lucky!
3.     Add wow factor
For one cocktail, I used the Angostura Bitters label for the menu cover and inside was the drink recipe, inspiration and story behind the name and the cocktail all with historical references to Jerry Thomas' bartenders guide.
For the other one, I made recipe cards to look like Angostura Rum business cards.  I presented them with a licorice eau de parfum for the judges to spray on, wave the card in the air like you just don't care and then breathe in the aromas.
My brother is a carpenter, so he handmade some platters for one of my cocktails, adding a sentimental touch. I stained each platter with Angostura Bitters so the first thing the judges smelt when I put the drinks down were the aromatic qualities of the Angostura Bitters.
4.  Don't underestimate your fellow contestants
I was competing against some very credible bartenders.  Second place went to a Ukrainian who works at Space Bar in Moscow; third place went to a guy formerly of The Dorchester in Mayfair, London.
The line-up of competitors included guys who had represented their countries in World Class Global Finals or narrowly missed out; guys who had won other Global Finals like Havana Grand Prix and guys who had worked at many well-known bars such as The Dorchester in Mayfair, 69 Colebrook Road and Zeta Townhouse, all in London.  Add to that cocktail competition veterans such as James Goggin from New Zealand and Angostura had managed to assemble what I was told was one of the toughest Angostura Global Final line-ups of all time.
5.  But don't get intimidated either!
While competition over there was tough, just getting through the Australian leg is a big task, so you've got to go thinking you've got a good chance.  The Angostura Cocktail Challenge is one of the most hotly contested cocktail competitions in Australia with a lot of well-known Australian bartenders entering the comp.
It's a tough comp because of the format (i.e. no marketing or promoting your drinks etc), but also it's popular because of what's up for grabs – $10k cash prize, chance to compete in Trinidad for another $10k, this time USD, plus travelling the world for two years as the Angostura global brand ambassador.
As a result, once you win the Australian leg, you go to the Globals well prepared and in with a great chance to take out the top gong.  Australia is going through a golden age of bartending at the moment, with Australians winning some of the biggest global cocktail competitions over the past four years – Daniel Gregory Bols Around the World in 2011; Tim Philips Diageo World Class 2012; Jason Williams Beefeater 24 2013 and now me with Angostura in March 2014.