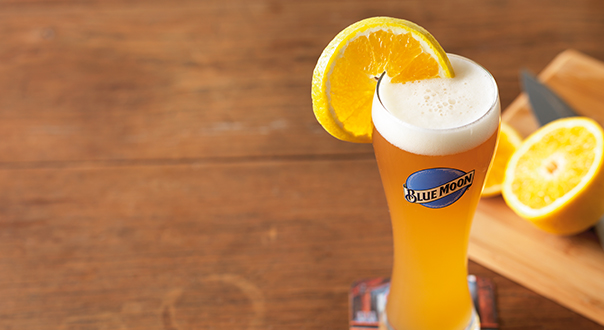 Photography by Rob Palmer
Presented by Jason Crawley
In Association with Blue Moon
We all know it's important to know what we serve behind the bar; being able to rattle off tasting descriptors, the provenance of each product and the people behind them is a standard part of the job these days. But just as important as knowing what it is you're serving, is knowing how to serve it.
No self-respecting bartender is going to limply shake a sour, for instance. No, you being the hard-working hospo pro that you are, you're going to shake the living hell out of it. You're going to flex those guns and get your shaker-face on because, well, that's just how it's done.
So why would you just pop the top off a bottle of beer and slide the bottle over to the punter?
ADVERTISEMENT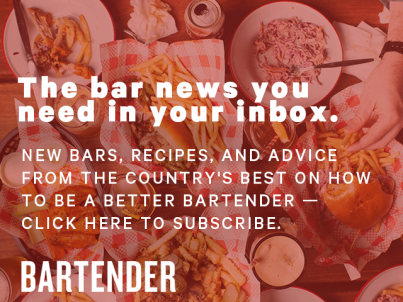 &nbsp
Well to be fair, some brews you can do that. But if the beer is one like the Blue Moon Belgian White Belgian-Style Wheat Ale we've presented here, you want to make sure you're getting the serve right.
Blue Moon's head brewmaster and founder wanted to create a beer inspired by his days in Belgium, where he studied brewing. So taken was he with the Belgian witbiers he encountered there, and so in 1995 took those ideas and ran with them. The Belgian witbiers, like his Blue Moon Belgian White Belgian-Style Wheat Ale, are unfiltered beers. You see, when brewers filter out the spent yeast cells from the finished beer, with them goes a little bit of the flavour, too. The name witbier is derived from these suspended particles in the beer: witbier is Dutch for white beer, and it's these particles that give the beer its cloudy — and white-ish — appearance.
By rolling the beer before serving in the steps outlined here, you ensure that this flavourful component is incorporated into the beer in the glass. You don't want to miss out on flavour.
And the signature slice of valencia orange is another key component of the beer's final taste. Drawn from the European practice of serving a wedge of lemon or orange with this style of beer, with Blue Moon it makes even more sense: valencia orange is also a key ingredient in the brewing of Blue Moon Belgian White Belgian-Style Wheat Ale. Villa used this, instead of the traditional, tart, curacao orange peel, to add a subtle sweetness to the beer that compliments the coriander in the brew.
You see, how you serve your drinks matters: every step is there for a reason.
Notes on ingredients:
• Valencia oranges: these are sweeter than the traditional curacao orange peel used in Belgian witbiers. Not only are they used in the brewing process, but by including it as a garnish, you'll really hit off the orange and coriander aromas leaping from the glass.
• Coriander: gives the beer a fresh, citrus-like note, and along with orange is a traditional ingredient in gruit, the mixture of herbs and spices traditionally used instead of hops to make witbiers.
• Oats: these are a key part of the texture Blue Moon shows on the palate, giving it a deliciously creamy mouthfeel.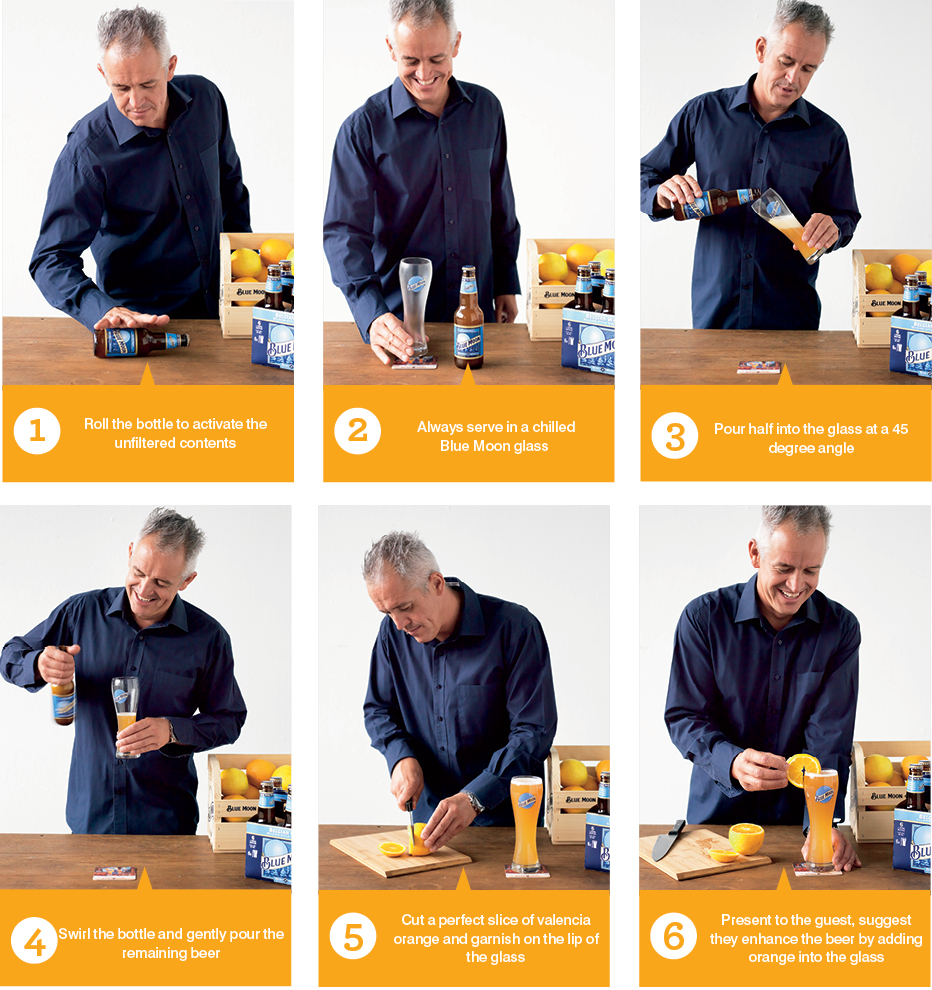 Tasting Notes
Appearance
Will appear cloudy because it's unfiltered for more depth of flavour.
Aroma
You'll notice a zesty orange fruitiness with a light spicy wheat aroma.
Taste
The flavour starts crisp and tangy and ends with a coriander and orange spiciness. The valencia orange peel gives a subtle sweetness to the beer.
Mouthfeel
The oats give the beer a nice creamy body, so it's not too thin.
Finish
A slow finish of coriander and orange spiciness.