Welcome to our series of interviews with women in the bar industry. The condensed versions of these interviews can be found in the April issue of Australian Bartender — today, meet bar manager Aasha Sinha, from Riley St Garage in Sydney.
Aasha Sinha
Bar Manager, Riley St Garage
How have you seen the 'boys' club' of the bartending industry change?
I think that the bar industry will always be predominantly males, therefore that boys' club stigma will never go away. It takes a certain type of person (woman or man) to make it as a bartender; the mindset of people in the industry has definitely changed and in a way is more inclusive of women. It's been a while since I've heard "don't worry, she's one of the boys" or "are you okay to carry the ice up the stairs?"
ADVERTISEMENT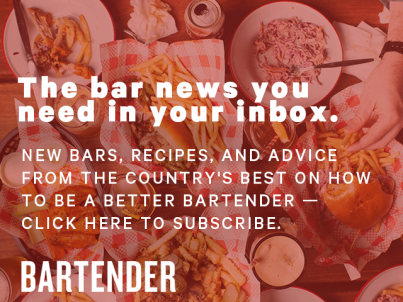 &nbsp
Are women well represented in Sydney bars, and at the top end of Sydney bars?
Most definitely, the women who are at the top of their game in Sydney are great representatives. I think the question is, is there enough? As far as being represented in the top end of Sydney bars, that could be argued. Just for example, Bulletin Place, Baxter Inn, Eau de Vie and Shady Pines all earned spots in the 50 World's Best Bars list in 2013 and only one of those venues has ever had a female tending the bar.
Could you tell us how you got to be where you are today?
My friend's mum ran The Macquarie Hotel and was short staffed and the rest, as they say, is history. My first exposure to cocktails was at The Beach Rd Hotel. Then, I moved to Cohibar in Darling Harbour where I had the pleasure of working beside the infectious Cosmo. Then, there was Keystone, where I was a part of opening team at The Winery by Gazebo and other great ventures. I then went on to be a part of the opening teams of Duke Bistro and The Norfolk before doing a little stint in New York, where I was lucky enough to lead the team at the Vinatta Project. After New York, I came back to Sydney and into the arms of the Keystone group, where I managed the bar at Gazebo and worked at The Rook. I then got recruited to help open Riley St Garage, where I am currently the bar manager.
Are there any women in the industry that served as a role model for you? 
There are plenty of women in the industry I see as role models. I think Jess Arnott's and Katherine Wasiel's achievements within the industry are something to note that even some of the most respected male bartenders haven't achieved. The Hazy Rose has to be one of my favourite bars (owned by Dom Easter), Sarah Limacher's achievements and contribution within the wine industry are amazing, especially at her age, and of course Julie Reiner of Clover Club (Brooklyn) and Pegu Club (Manhattan), who took out Best Bar Mentor at the Spirited Awards 2013. 
Do you think "best female bartenders" lists are helpful, say, in raising the profile of women in the industry, or is it a bit patronising?  
Having a female sub-category, has its place in the industry. When first starting, you often find yourself surrounded by 90 percent males, and it can sometimes get intimidating. By having specifically marketed categories, your chances of success increase immensely and I think that it's a good confidence booster for newbies. But at the same time, should we need to have these sub-categories to encourage females in the industry?
Do you think there are barriers that women face in the industry that men don't have to contend with? 
I think when most people think of "the professional bartender", a woman is not the first that comes to mind, and I believe that's mainly caused by the glorification of  Prohibition. As a result of Prohibition entering popular culture, everyone seems to be paying homage to it and embracing the idea of the moustachioed bartender with the suspenders and immaculate hair. It's great that hospitality is having its time in the spotlight, I just think the image that has been portrayed around it has created a barrier that women have to deal with. It's almost like we have to prove our authenticity, which kind of sucks to be honest.
What do you think can be done about barriers for women in the industry? 
I think it should start with education. Whenever we learn about the history of bartending, you almost only hear about the influential men. I only heard about Ada Coleman two or three years ago. To be the head bartender at the Savoy for 23 years is kind of a big deal, and yet no one is singing her praises as much as she deserves.
Women's contribution to the development of the bar industry definitely needs to be highlighted, just as much as the men's contribution.