We're continuing our series of interviews with women in the bar industry. We speak to Adelaide's Erin Shaw about "questionable characters" and her career in bartending.
Erin Shaw
Bartender, Adelaide
How have you seen the 'boy's club' of the bartending industry change — if at all — in the time since you started in the industry?
I think the perception of a 'boys club' only really exists because it is largely a male dominated industry, and has always been. If you are a female and not a part of that "club" in a professional team environment then you may not be right for the job. Same goes if youre a dude. Hospitality, and in particular bartending is a tough gig. It is a service industry, which means dealing with people from all walks of life.. customers and co-workers. There's those customers that have manners and value the hard work and odd hours that you keep to allow them to be able to go out and have a good time. And the customers who just don't give a fuck who you are or that they are behaving like an absolute douche..It's an industry full of strong personalities and big ego's. It is an industry that we work hard to learn and perfect our craft and is still not considered by the vast majority as a 'real job', but something people do to earn some pocket money while at uni. How wrong they are. Whether you are male or female, you need to be prepared to put in some serious hours (most in your own time) attending trainings, tastings, and reading..lots of reading. You must have the balls to put your reputation on the line and compete in the cocktails comps if you want to consider yourself "the shit". I don't care if your mum thinks you're amazing, being judged against your fellow peers is the best way to see if your ego is warranted or if you need to shut the fuck up go and sit in the corner until you have improved.
ADVERTISEMENT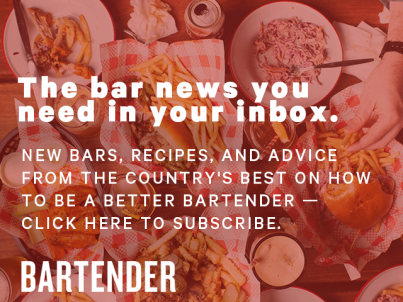 &nbsp
Are women well represented in Adelaide bars, and at the top end of Adelaide bars?
Adelaide has had, until recently, a relatively small (cocktail) bar culture. I would say the majority of full time bartenders in Adelaide are still male, and most of those would be in the 28-35+ age group. We do have a few amazing female bartenders, I'm discovering some gems at some of the newer venues that have opened up since the introduction of the small bar license last year. There have also been a few transitions of late with the better-known female bartenders with some moving interstate/overseas and into other fields (both into different areas of hospitality and total career changes).
Could you tell us a little about your story, from when you started out in the industry to today? Have there been important female bartenders to you along the way?
I first started in hospitality when I was 18, at a pub in the Adelaide CBD, from there I did an 18 month stint at a resort in remote NT, and then over to The Gold Coast working at Legends Hotel and Palazzo Versace before heading back home to Adelaide in 2006. I quickly worked my way into management in some of Adelaide's most awarded restaurants and assisted was involved in the launch and coordination of two restaurants (one a la carte and the other walk in only) simultaneously running from one kitchen. Not the easiest task on a busy service with up to 220pax seated.
It wasn't until 2009 that I moved from the restaurant management side to bartending. It started out helping a friend who owns a basement bar in the CBD so she could go on her honeymoon and quickly turned into a bar manager role. Very much a uni crowd, so not much in the way of cocktails.. more longnecks and vodka raspberries were the hit at the time!
Then there came the Crown & Sceptre and the cocktail trainings and thirst for learning began. Cocktail competitions soon followed. I wasn't the greatest but had no qualms about jumping in and giving the boys a run for their money. At the first Grand Poohbah comp I was the only female entrant and from memory came a respectful fifth out of 11 entrants. Not bad for my first comp.
And finally I found my home, Cushdy. Unlike the owner of my previous place of employment Shaun was great at encouraging us to learn, explore, experiment and ask questions. Tasting and product knowledge were key. We had a massive back bar so there was never a shortage of inspiration. And we didn't have to pay full retail to try something that we stocked. After all, there's no point having something on the shelf if you can't explain to the customer what you are trying to sell them. We had a great team and for a solid three years we were an all female bar crew (apart from Shaun but he was outnumbered so knew where his place was!). In that time we worked hard and earned a whole heap of nominations nationally and I was in countless state and national cocktail comp finals. It was great having Monnie Place to bounce ideas off, make her my guinea pig for new concoctions and have her serve all the biddy's when I just couldn't make more drinks that were "really strong but don't taste like alcohol". My other partners in crime included April Sullivan and Heidi Clarke. A huge inspiration and confidence boost came in 2010 at my first Angostura National Finals in Sydney where I met a few of the girls from around the country for the first time and cemented that I could compete with the best of the best, even if I lose miserably. Krystal Hart, and Nique Cacioli helped immensely at competition finals (even if they knew it or not) when they could clearly see I was frazzled and was struggling either with nerves or a shocking hangover and couldn't quite connect brain to mouth rehearsing my chat (or lack of). I love catching up with both of them when we're in the same city.
These days you can still find me doing rockstars at venues around town and involved with trainings and brand ambassador roles from time to time, but for the most part my "day job" now is as a Registered Nurse and also completing post grad studies with a Graduate Diploma in Mental Health Nursing. I don't think I'll be able to give up bartending any time soon. I still have the goal of my own venue, so fingers crossed.
Do you think "best female bartenders" lists are helpful, say, in raising the profile of women in the industry, or is it a bit patronising?
I can definitely see how people see it as patronizing and that there should be no distinction between the sexes.. I originally saw these lists the same way. I've now taken a more flattering view on them in that yes, bartending is predominantly still a male dominated environment and therefore naturally there will be more males in the spotlight than women. It's purely a numbers game. Why not shine the spotlight on us and make us feel all warm and fuzzy by having someone recognise our talents and hard work? Yes we are all equals, but who doesn't like making the "best of" or "hottest list" sometimes, even just for a short-term ego boost. I think it does help raising the profile of not only that particular group of people on the list but would hope that other females interested in getting into the industry would see it and feel less of the "boys' club" mental barrier that can often be a mental block in giving it a shot.
Do you think there are barriers that women face in the industry that men don't have to contend with?
Mmm, yes. Height is one that comes up a lot! I'm sick of bars being designed and built by people six feet tall and above. Think of us shorty's for a change. Having to get a step ladder out constantly throughout a busy service not only holds up my speed and continuity of service but gets in everyone else's way too. I won't ask a guy to open a jar for me, and unless you're standing around with nothing better to do at the time, I'll get my own damn bottles down too.
I have found in certain venues they prefer to hire males over females regardless of experience as they see the girls as something to look at but the guys as the tough macho workers that can do anything from serve drinks, change kegs, back up security etc. If you've ever had the pleasure of seeing me behind a bar with a questionable character or two in the venue, you know I can handle myself and you really don't want to argue back.
If so, what do you think can be done about it?
Consult your key bar crew when designing a new venue, or at least speak to a range of career bartenders to find out any issues or suggestions they have from experience working in a variety of bar set ups. Work out what works for the concept you have created, and what will lead to the best use of space and productivity by staff, hence a better experience by the customer.