We're continuing our series of interviews with women in the bar industry. Today, meet Rinna Kato — she finished in the Top 10 in last year's Bartender of the Year competition, and you can find her behind the stick at Brisbane's Blackbird Restaurant & Bar.
Rinna Kato
Bartender, Blackbird
How have you seen the 'boys' club' of the bartending industry change?
I think more females have started taking the bartending role seriously, entering competitions and considering it as their career. The industry has become far less gender biased.
Are women well represented in Brisbane bars, and at the top end of Brisbane bars? What about Australia generally?
ADVERTISEMENT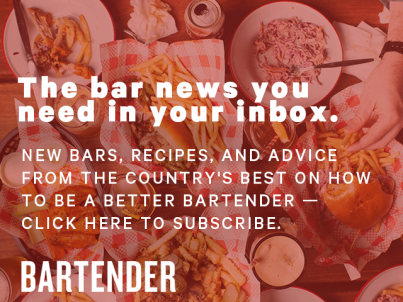 &nbsp
Yes, definitely.  I know some great female bartenders in Brisbane… amazing chat, great knowledge plus beautiful smiles! Not only in Brisbane of course… every time I go to competitions, I meet talented female bartenders! I always learn from them and get new inspirations and ideas.
Could you tell us how you got to be where you are today?
Twelve years ago, I left Japan by myself and moved to Australia.  Back then I did not speak any English at all. I entered the University at Rockhampton and I was the only Asian person. Of course no one wanted to talk to me, especially when I had to do group assignments — I had no one asking me to join their team! Totally understandable, everyone wants to pass the course, and why would they want to take non-English speaker in their group and do extra work? But the first two years in this country shattered my confidence. I was always lonely and scared of what everyone thought of me!
Then I worked some bars in Brisbane and London, learnt so much, and entered many competitions to see if a 'funny-English speaking' Asian girl can achieve anything in this country.
Now here I am! I have met some of the top bartenders in Australia at competitions, been selected as part of the opening team at the coolest new bar, Blackbird Restaurant and Bar and opened my own bar tools business, BARPORT with my partner, Glenn Morgan. It's like a Cinderella story for me!
Do you think "best female bartenders" lists are helpful, say, in raising the profile of women in the industry, or is it a bit patronising?  
I guess it can be. But personally I never thought of this in a negative way. I always try harder to beat male bartenders because I want to show them I can do as much as they do.  It's a great challenge for me and helps me improve myself.
Do you think there are barriers that women face in the industry that men don't have to contend with?
There are hundreds of barriers and it's not as easy to overcome them as everyone has different views, reasons and beliefs. I have faced them a lot –  not only as a female, but also as an Asian, a non-English speaker and as a newbie in the industry. I have experienced many hard times.
What do you think can be done about it? 
All I can do is show my passion. Whatever happens, I never give up.  There are always some people who actually see that attitude and give people a chance.