We're continuing our series of interviews with women in the bar industry. Today, we speak to Melbourne's Alex Ross about her successful career.
Alex Ross
Sales & Brand Activation Manager, Tromba Tequila
How have you seen the 'boys' club' of the bartending industry change?
I've seen the whole industry change, not just the 'boys' club'. Back in the late 90's, early 2000's, when modern bartending was becoming what it is today, it was almost entirely men in the Australian scene, it seemed I was one of only a handful of women involved in the change. This was great for my career because it helped me to stand out of the crowd a little more than I otherwise would have. Over the years I have been dismayed at the lack of women being represented but the story has changed in the last few years. Some of the finest bartenders in the industry are women. Just looking at Melbourne alone, we've got Heather Garland, Sarah Miller, Sarah Fulford, Chanel Liquori, Emma Ramos, Rita Ambroz, Jenna Hemsworth… this list just goes on and on.
ADVERTISEMENT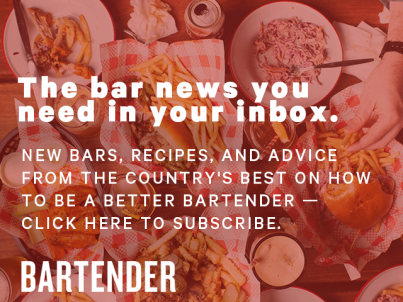 &nbsp
Who are some of the women you've looked up to in the industry?
I hate writing these lists, I always forget people! My mum! Audrey Saunders, Amy Spanton, Tash Conte, Karla Brown, Georgia Sherriff, Alexx Swainston Stuart, Julie Reiner, all the women I mentioned in the previous question, all the women currently working in the industry anywhere right now!
Could you tell us how you got to be where you are today?
I was a waiter and barista in my teens. Once I hit 18 I had various positions from being a 'door bitch' to managing bars and restaurants, both here in Melbourne and a brief stint in the UK. I convinced my mum, Deb Paez, that we should open a cocktail bar. With some help from both my brothers, Toby and Sam, we opened Ginger Cocktail Bar in 2001. Ginger was an absolute highlight of my career. We had some incredible staff come though the doors and we won our fair share of awards. We had Ginger for just shy of nine years, after which I went on to be general manager at Match Bar & Grill, and then a brief stint as GM at The Order of Melbourne. I dipped my toe in the repping pond by selling wine for a few months before I took a role at Think Spirits as an on/off premise sales manager. I loved working at Think, the brands were excellent and I was able to work with amazing bars and bartenders who just spoke my language. This role also led me to landing my dream role with Tequila Tromba. I am now the Sales & Brand Activation Manager for Tequila Tromba, Australia & New Zealand. I'm thrilled because the tequila is excellent, the brand is heaps of fun, I get to work with Nick Reid & James Sherry, & I have learnt so much in my career that I finally get to put this knowledge to good use.