We're continuing our series of interviews with women in the bar industry. Today, we speak to Sydney bar owner Lara Dignam about patronising standards and careers for women in bartending.
Lara Dignam
Owner, Papa Gede's
How have you seen the 'boy's club' of the bartending industry change?
It definitely remains a male-dominated industry. I started about 10 years ago in the UK and I actually think there are far less females behind bars in Australia than there are when I started overseas. When Mick and I moved over here seven years ago most places I applied for a bar job pushed me towards restaurant/cocktail waitressing roles rather than bartending.
ADVERTISEMENT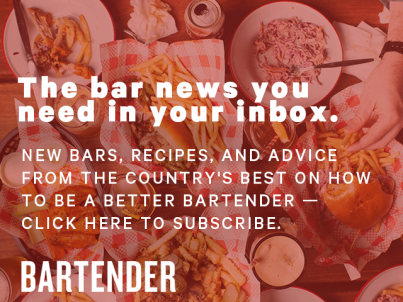 &nbsp
Are women well represented in Sydney bars, and at the top end of Sydney bars?
The top end of bartending, like any profession, represents a combination of talent, hard work, ambition and opportunity. Most women that I've worked with in the industry have just as much talent, and are very hard-working, but they don't necessarily have the long-term ambition behind the bar. Or, if they do, they end up with great positions that incorporate other parts of hospitality like restaurant managers/brand reps.
Could you tell us how you got to be where you are today?
My story is that I have mostly been in the industry part time while I was studying or doing other work, I never thought of myself as a career bartender/hospo type, until Papa G's came along. And I think there is that reputation for women behind bars, that it's often a 'stop-over' for them. Even for me I think of myself as a people person who happens to bartend, who's here because I worked my proverbial balls off with a great team, not because I'm the greatest bartender who ever lived.
Do you think that "best female bartenders" lists are helpful, say, in raising the profile of women in the industry, or is it a bit patronising?
The small percentage of female bartenders mean that they are going to be seen as something exotic amongst the hoards of dudes. Having a best female list kind of highlights this — and, if the overall talent and skill of the women listed is similar to that of 'best bartender' then, great! But if women are making the list just for looking cute while making a Mojito then who cares.
Women, and men I believe, want to see female bartenders celebrated for bringing something new and interesting to the industry, not just for having boobs and knowing what's in a Sidecar. Now that's patronising.
Do you think there are barriers that women face in the industry that men don't have to contend with?
You definitely have to learn to be one of the boys… Although I think most women in the industry enjoy this anyway! I think you also become aware that you really have to work to your strengths — I can't shake egg whites as hard, or carry as much ice, but communication, good chat, organisation and cleanliness are just as important! Bartending is as much about charm as it is about physicality after all.
If so, what do you think can be done about it? 
Know thyself! Know what motivates you and what you can bring to the table. You can't expect special treatment for being female, we all have businesses to run and need to value efficiency and productivity but it can be a point of diversity that makes a business more interesting. Likewise, if you employ a great female bartender, give her easy access to a stepladder for those high shelves.
As a bar owner, are there any jobs you wouldn't hire a female to do? What about jobs you wouldn't hire a male to do?
We have a super-small team at Papa Gede's so the most important thing is being an all-rounder. Typically women are hired more as a 'face' or hostess, men to do the predominantly physical stuff — but for us one without the other is useless. We value personality, professionalism and dedication over any gender pros and cons.