Above left: the Hanky Panky; right: The Savoy's Ada Coleman at the bar
Hanky Panky
30ml Bombay Sapphire
30ml sweet vermouth
2 dashes of Fernet Branca
Stir down, strain into a coupe.
Adapted from the Savoy Cocktail Book, 1930.
By Sam Bygrave
Drink photography by Rob Palmer
ADVERTISEMENT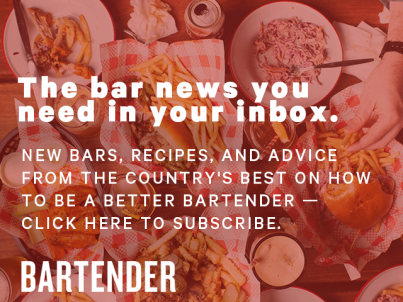 &nbsp
Ada Coleman was the head bartender at the American bar at the Savoy from 1903 to 1926. She also invented this fine drink, the Hanky Panky. She's rightly celebrated in the bar world for helming such a revered bar — at least until Harry Craddock came along, who, according to drink historian and writer Anistatia Miller, bumped Coleman from the gig because he didn't think a woman should be in the role. But I'm not going to write too much about her. I want to introduce another lady of the bar you won't have heard about.
Tasting Notes

Bombay Sapphire
Bombay Sapphire has a fresh, pine-green juniper flavour, with citrus, coriander, floral violet and lavender notes prominent. A full mid palate with hints of chocolate, nuts, rooty spice lead to a exotic, peppery finish.
Bacardi Lion
Her name is Valda Baird, and she's my nan.
Val worked all her life behind the bar of a pub in Sydney's Glebe. She was born in a house around the corner from the Kauri Hotel, the pub she worked for years. She'd spend all her life in the two storey terrace up the road from the pub. Glebe in her day was far removed from the gentrified, sterilised suburb it is today. Today it's got its fancy small bars, food from all over the world, and a median house price over $1.2 million. The Glebe that Val knew was a tough, inner-city suburb — it was working class, as blue collar as they come.
And Val knew everyone — maybe it's better to say that everyone knew Val. They were colourful characters leading colourful lives. The Liberal premier Robert Askin used to pop by the pub, parking his large Cadillac out the back. All sorts of rumours abound about Askin, who earned a total of $300,000 or so in his working career, but when he died in 1981 left an estate of just shy of $2 million. This was the era in Sydney when illegal casinos flourished, of SP bookmakers and a chain of corruption that allegedly went all the way up to Askin and his police commissioner. That was Sydney then.
Val knew other colourful characters, too, the type my folks would rather I don't name. The type that made sure that no one made trouble in Val's bar. She knew Mr Grace, too — you know, of the department store Grace Bros. Val won't be remembered by history like these characters. But they all would remember Val.
Pouring beer was her primary trade behind the bar. She wasn't a mixologist, she was a barmaid — that's what they were called then. And she might not have had a grasp on the specs for a Hanky Panky, but she sure had a command of blue language. She turned to my brother one day, who'd been admonished by our stepdad — her son — for something or other. She said, to reassure him: "Don't worry, he can be a bit of a c-nt sometimes."
To a teenage boy, this was a revelation. You don't get more quintessentially Australian than that.
Val is still around — she retired in 2003 at the age of 73 — but her memory has gone in her old age. It's a damn shame too. We should have put a tape recorder in front of her. She'll take a lot of untold stories with her when she goes (and that's probably how a lot of people she knew would prefer it). But Val isn't the only barmaid of that era. Maybe you know someone like that too. If you do, for goodness sake get their story down and share it. Because while Ada Coleman deserves respect, surely we've got our own heroines of the bar much closer to home.
Here's to you, Val.
The Banter

Bombay Sapphire is based on a recipe that dates back to 1761 created by English distiller Thomas Dakin.

Bombay Sapphire distills uses the Vapour Infusion process. The 10 botanicals are held separate from the spirit in a perforated copper basket, through which the heated vapours of the spirit rise.

The distinctive blue bottle reignited interest in premium gin when it was introduced in the 1980's.