We're continuing our interview series with women in the bar industry. Today, meet Bonnie Shearston, owner of Public in Brisbane and a contributor to Australian Bartender.
Bonnie Shearston
Owner, Public
How have you seen the 'boys' club' of the bartending industry change — if at all — in the time since you started in the industry?
I honestly don't feel like I have ever worked in a venue with a 'boys' club' mentality. Sure, I have always been a litle outnumbered but I've always felt very supported and encouraged wherever I have worked. However, it is great to see more women working in and behind bars these days and especially moving up into managerial roles.
Could you tell us how you got to be where you are today?
ADVERTISEMENT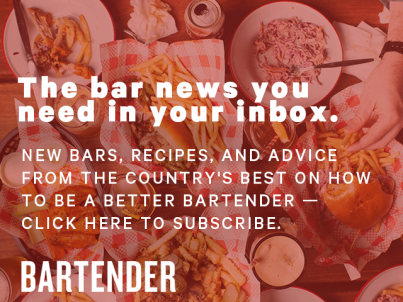 &nbsp
I started as a glassy in a backpackers called Belushi's in Newquay, Cornwall. I spent night after night scrubbing the remnants of hideous blue cocktails and Flaming Lamborginis out of glassware for six months. I then moved back to London and worked for the Bar Room Bar group for six months, this time being allowed to try my hand behind the bar. It was there that I developed a taste for the fine art of mixing drinks. An opportunity then arose for me to take up a position at the renowned Match Bar, but only on the floor. I had to earn my stripes there but I was determined so I found myself on the bar after three months (yes, I was the only girl on the bar for a large portion of my time there) About two years later my boss gave me an incredible opportunity to get involved behind the scenes opening up a new site for the group. It was a massive learning curve for me but really taught me the skills required to get a site off the ground. Next stop was Brisbane. I worked in a restaurant here for a year before opening the first venue, Canvas. 18 months later came along Public. Now, three years later, Tom and I are looking at our third venue which should be along mid-way through this year.
Do you think that "best female bartenders" lists are helpful, say, in raising the profile of women in the industry, or is it a bit patronising?
Ha, no, if anything I think it's unfair on the gents in the business. They don't get to compete without us girls as the competition and we certainly do put up a good fight. But on a serious note, if that was switched on its head and there was a 'best male bartender' comp someone, somewhere would kick up a storm, and sexism would rear its ugly head. I don't think there should be gender distinctions in any industry. If women want to be treated as equals then they have to fight as equals.
Do you think there are barriers that women face in the industry that men don't have to contend with?
Drunk men.
What do you think can be done about it?
Nothing, they indirectly pay our wages.
When you hire staff, do you think about the number of women you have on board or does that not come in to it much? 
I would like to try and keep an even ratio of men to women, I think that men and women working together brings a balance to the workplace, the same philosophy as co-ed schools, but it's hard. There are more male CV's that come through than female, and I have positions to fill. If the skills are there and the job needs doing then I've got to work with what I have available.
Are there any jobs within your venue you'd prefer not to hire a woman for?
I don't have a cellar but I can imagine that if there was a position of a cellarhand going that I would most likely hire a guy for the position. Purely on brute strength ability, lugging kegs, shifting cases etc. Though I myself love that sort of physical workout so I'd be open to any application.
Are there any jobs in your bar you'd prefer not to hire a man for?
Possibly the hostess/cashier role. Though this would be purely from an aesthetics point of view and again I'd be open to any application.
Do you think the bar industry keeps up with wider community attitudes about equality in the workplace, or is there more to be done?
From where I'm sat I think that the boys in our industry are very supportive of the women that are their peers. We have some phenomenal female talent in Australia, it just happens to be a minority. It's a fun and friendly industry to work in though and I think if we carry on the way we are we will see more and more people entering into it, women included.