Andy Griffiths (third from left) is 2014's Chartreuse Chevalier
The perennial choice of herbal liqueur for bartenders all over the world, Chartreuse, hosted the final for their Chartreuse Chevalier competition last night at Sydney's The Hazy Rose.
Guests were invited to sip on a number of Chartreuse drinks (among them some excellently executed Last Words — there was even a Death Flip or two kicking about), and watched as the national final unfolded.
The competition had come down to five finalists earlier in the day, after a Flip-making competition at Suntory HQ, and a written exam which tested the strength of their knowledge of Chartreuse.
In the end, there would be only one, and that was Melbourne's Andy Griffiths from the The Rum Diary Bar. It's been a pretty good year so far for Griffiths, who has also made the national final of the Havana Club Grand Prix and is in the top 25 for World Class.
ADVERTISEMENT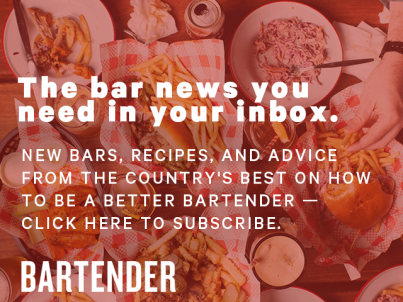 &nbsp
Sydney's Ben Blair placed second.