There's a couple of theories on where the phrase "the luck of the Irish" comes from. One of them is that the phrase is meant to be a joke: in actual fact, given that the Irish have had pretty much everything that history, kings and famine can come up with to keep a people down, perhaps they ain't so lucky after all.
But it seems the phrase may also have come from the spectacular success that Irish immigrants had prospecting in the gold fields of America. Either way, who cares? They've got some of the best drinking going around.
Did you know?
Yeah you know that the Irish are said to be fond of a drink. Yeah you know that Irish whiskey is one of the hottest things going right now. But did you know that cidermaking in Ireland goes back to earlier than the 1300's. Indeed, apples figure prominently throughout Irish history. There are over 70 distinctly Irish apple varieties that have been documented.

Left: Weeski. Right: Tipperary
Weeski
40ml Writers Tears Irish Whiskey
20ml Lillet Blanc
15ml Cointreau
2 dashes of orange bitters
ADVERTISEMENT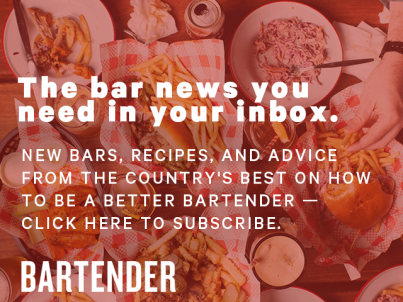 &nbsp
Stir and strain into a coupe. Garnish with an orange twist.
Adapted from a recipe by David Wondrich
Black Thorn
30ml Jameson Select Reserve
30ml dry vermouth
5ml Pernod Absinthe
3 dashes Dr Adam Elmegirab's Boker's Bitters
Stir down and serve up in a cocktail glass.
Adapted from Harry Johnson's Bartenders Manual
Tipperary Cocktail
20ml Tyrconnell Single Malt
20ml Green Chartreuse
20ml sweet vermouth
Stir down and serve up.
Adapted from the Savoy Cocktail Book
What is Irish Whiskey?

• Irish Whiskey must be made (distilled and aged) in either the Republic of Ireland or Northern Ireland to be called an Irish whiskey.

• The spirit must be aged for a minimum of three years in oak casks.

• The spirit must not be sold at less than 40% ABV.

• The Irish spell whiskey with an (e) as do the Americans (except Makers Mark) while the Scottish drop the (e). The word means "water of life".

• Must be made from grain (notably barley), must be made from a yeast fermented mash.

• Most Irish whiskey uses unpeated malt to create a smoother, lighter spirit. The Scots are renowned for a more full flavoured and peaty whisky.

• Most Irish whiskey is distilled three times to reduce unwanted elements like fusel oils and congeners that also help create a smoother spirit, whereas the Scots tend to distill twice creating a more complex flavour profile.
Magners is matured for up to two years for greater depth of flavour. Magners uses freshly pressed apples, and absolutely no concentrate. They source their apples from farms all across Ireland (and only Ireland), as well as their very own apple orchards  (of 250 acres) which are located right next to the Cider Mill. The recipe is unchanged since 1935 and is still hand blended and tested by an expert cider panel. Just like the best spirits – it's only ready when it's ready. The Magners Cider mill has a credited spring water source, which means the water is pure enough to bottle. Magners is medium dry, pure, crisp and refreshing. Bacardi Lion
The Tyrconnell Single Malt Irish Whiskey is produced by the Cooley distillery, and is a single malt Irish whiskey. Notes of marzipan up front, with a light spice, cinnamon and clove, following through to a creamy palate. CCA
Writers Tears Pure Pot Still Irish Whiskey Writer's Tears is an un-chill filtered pure pot still Irish whiskey that salutes the great Irish writers of history. Honey and concentrated marmalade on the nose with citrus hints, it is viscous and smooth with noticeable malt character and a finishing kick of ginger. Island2Island
Jameson Select Reserve is a combination of single Irish pot still whiskey and a rare small batch grain whiskey. This grain whiskey is not found in any other Jameson expression and is triple distilled in small batch quantities on just one day of the year. Aged in charred ex-bourbon barrels and toasted sherry casks. Has notes of vanilla, spice and stone fruits. Full-bodied and creamy palate. Pernod Ricard
Redbreast 12 is made from malted and unmalted barley and is thrice-distilled in large copper pot stills and aged in American and Spanish oak. It's made at the Midleton Distilery, in Cork and has flavours of Christmas cake, vanilla, and hazlenuts. Pernod Ricard