By Sam Bygrave
America: land of the free, home of the brave; a country often more at odds with itself than it is united, a place of extravagant income inequality, of great spirit and of great squalor. It's probably why America is so fascinating, these disparate strands of its identity, but we think a lot of it has to do with its relationship with booze.
The US might be to bartenders at least, a shimmering, spiritous paradise of booze, but don't be fooled that everyone in the US shares your enthusiasm for drink: the US has the highest rate of tee totalling abstainers in the Western world (around 35 percent). It's no small wonder Prohibition got up.
There's plenty of Prohibition going on today in America, too. The legislation in some 33 states allows local government levels — like at the country or town level — to opt out of selling alcohol. The iconic brand that is Jack Daniels is also subject to these laws: despite producing a global brand's worth of whiskey (making 119 million bottles a year) and being the key ingredient in a Lynchburg Lemonade, you won't be able to buy that cocktail or indeed any booze in Lynchburg. The Moore county in which it sits is a dry county.
ADVERTISEMENT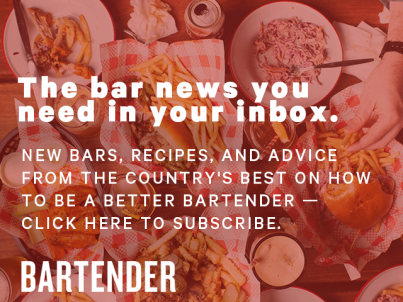 &nbsp
Being fond of a drink here at Bartender, that's no county we'd like to be counted in, so we've taken a look at a few key cocktails to have come out of the States. They did after all invent the cocktail. God Bless.
Ross Collins
60ml Rittenhouse Rye
20ml lemon
20ml simple syrup
3 dashes angostura
50ml orange slices
Soda to fill
Adapted from a recipe by Sam Ross in Bartender's Choice
If you visit Milk & Honey or Attaboy in NYC, chances are the bartender will guide you in the direction of this drink. We've had it in both bars, and it's just as enjoyable if you make it yourself as it is when Sam Ross (Attaboy), the drink's creator, passes one across the stick.
Cobble Hill
40ml Jim Beam Rye
10ml dry vermouth
10ml Amaro Montenegro
3 slices of cucumber
Stir all ingredients, strain.
Adapted from a recipe by Sam Ross in Bartender's Choice
There's a bit of a Sam Ross theme emerging with these drinks, no? This Manhattan variation is named for a suburb in Brooklyn; the cucumber lightens the mood a little bit, and the Amaro Montenegro keeps things interesting.
Lynchburg Lemonade
45ml Jack Daniels
30ml triple sec
30ml lemon juice
Top up with lemonade
The Lynchburg Lemonade. If you're in a country in the South where you can get a drink, you might like to get at this one. Controversy exists as to who created the drink — was it Jack Daniels (the brand) in 1981? A guy called Mason in 1980 at his Alabama bar? Either way if it's a hot day, this cooler is a good way to get your whiskey in you.
East New York Flip
40ml Hudson Baby Bourbon
20ml cream
20ml honey
1 egg yolk
Dry shake, shake, strain.
This my new favourite Flip. Perfect for winter, Flip is a quintessentially American drink, first coming to prominence in the taverns of Boston in revolutionary times.
Brooklyn
45ml Wild Turkey Rye
15ml dry vermouth
7.5ml Amer Picon
7.5ml Luxardo
A variation the Manhattan named after another borough of New York — this is a hard drink to get a hold of in Australia, because Amer Picon is hard to get a hold of.
Five American Spirits to Mix With
Hudson Baby Bourbon is the first bourbon to be distilled in New York. The single grain bourbon is made from 100% New York corn, aged in small American oak barrels. It is a mildly sweet, smooth spirit with hints of vanilla and caramel. William Grant & Sons
Jim Beam Rye Warm citrus, spices and mandarin charcters on the nose. Soft and smooth on the palate. Jim Beam Rye is aged for four years in charred oak barrels and made from a mash bill of 51 percent rye. CCA
Jack Daniel's Another iconic spirit. Jack Daniel's Old No. 7 is charcoal mellowed, and aged in charred new American oak barrels. A sweet aroma of spices leads to smooth palate, with characters of spice and vanilla and a long, easy finish. Brown-Forman
Wild Turkey Rye 81 Proof offers up rich aromas of vanilla and dry spices. There's subtle hints of rye toasts and a light smokiness on the palate, with a lingering finish.Gruppo Campari
Rittenhouse Rye This high-proof rye whiskey opens with big aromas of spice and fruit characters. On the palate there is plenty of spice again, along with toffee and fuity notes. A big, assertive, bold rye. Southtrade