"We're providing a good service, and it's discreet. That's probably the main word behind the whole venue, it's discreet."
Thats how Martin O'Sullivan — who, with Belinda Lai and John Toubia also owns Grasshopper and Boston — describes their new members bar, Magazin.
"When Grasshopper, Shady Pines, Small Bar, when these bars opened they were seen as groundbreaking; changing the culture of Sydney," said O'Sullivan about the first wave of Sydney small bars. "What we thought was, if we're going to do another bar, lets try and do that same thing. Let's do something that's a cultural change, let's do something that has been done very successfully throughout Europe, primarily, a little bit in North America, but very prevalent in London. My business partner, Belinda, was a member of three or four over there."
There's a few ideas woven together in the Magazin concept. The first is that they've only got a dispense bar, as it is table-service only.
ADVERTISEMENT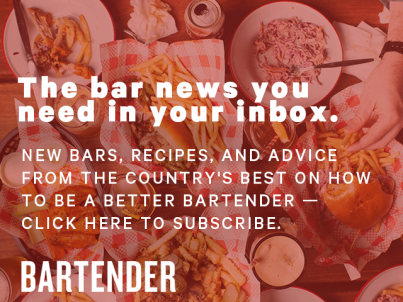 &nbsp
"When we came up with the concept, John liked the idea of making a bar into a kitchen, turning the idea of a bar on its head," said O'Sullivan. That means that head bartender, Taka Shino (ex-Black, ex-Eau-de-Vie) works from the what could be described as the bar pass, finishing garnishes and expediting drinks to servers much like a head chef might.
It's pure dispense, said Shino. "On a busy night we'll have two people there [behind the bar], and myself or John on the other side garnishing the drinks. We've got a fair few complicated garnishes."
The cocktail menu is laid out as though it's a restaurant, too.
"The cocktail list is laid out like a restaurant menu, so classics have the names on it, but it's laid out from aperitif styles to heavier styles," said Shino. "Then the signatures have no names at all it's just the key ingredients highlighted, and working all the way from lighter to heavier."
And the culinary focus extends to the bar's prep list.
"We've got a kitchen here, like a little lab," said Shino. "I've got a fair bit of prep to do here, like making my own salted caramel, a few jellied things, a lot of candied stuff: rock candy, ginger lolly pops and stuff to use as garnishes."
Then there's the name, Magazin.
"Essentially what it is," said O'Sullivan, "is it's by subscription only — that's why it's called Magazin."
In the logo, parts of each letter are missing , moved away from the text, O'Sullivan said, because "it's not what you leave in, it's what you leave out that's important. It's like any good design: keep it minimalistic."
And finally, the design elements of the bar bring the concept together drawing on the minimalist concept that is such a central theme.
"A lot of the furniture we looked at was a cross of what they're doing those Nordic states and in Japan," said Lai, who lead the design side of things. "Obviously when you see the cocktails they have a similar sort of aesthetic, in terms of the glassware, the construction of the drinks, every little part counts. Every thing here serves a purpose, there's no clutter, no stuff," she said.
Lai sad her brief to the designer was to create something that he termed "uncomfortable". What does that mean, you may ask. "I meant was that it wasn't a design or an aesthetic that anyone should be used to," she said. "So their eyes aren't going, that's from the 1920s, that's that French baroque kind of stuff, I've seen that before."
"I didn't want any of that Prohibition bullshit," said O'Sullivan.
Lai worked with their architect, Joe Snell, to push the idea of doing things differently to bars not just in Australia, but the wider world as well. And again, every part of the design had to have a reason.
"Most of the stuff is custom, all of it is functional in the first instance, everything that was picked had to be part of the design," she said. "So even though the bulkheads have that brutalist kind of nature to them, they're acoustic panelling.
"I gave the designer a photograph of the interior of a spaceship, he got a photograph of a gentleman in a tuxedo because I wanted something classic that is neat, tidy and modern, and the fabric he got a photo of was a pair of shoes and a bag."
"If you hear the music here, it's all acoustic panelling, so it's designed so that the club can pump yet you can still have a conversation.
"In terms of privacy, the booths are built in that style so you can see people, but because of the acoustic panelling around the side of you, no  one around you can really hear you."
So how does one become a member?
"You either have to know an existing member, from a referral perspective, or they need to know one of the owners or Taka," said O'Sullivan. But the exclusivity of membership isn't based on how fat your wallet is.
"It's a paid membership, with an upfront nominal fee, and there's a annual fee," O'Sullivan said, "but they're not huge amounts. It's as much as it would cost to join a suburban golf club."