With the great success of last year's format, and this year with the great prize of a trip to Havana, the Bartender Magazine Bartender of the Year Competition sponsored by Havana Club is again pouring the pressure on. Not only will you need to sit the rigorous written exam, mix your way through the mystery box round and identify spirits blind, but should you make it to the Top Eight you'll have to perform in front of 600 of the country's most influential bartenders, bar managers and bar owners at the Bartender Magazine Australian Bar Awards.
All those brave bartenders who have thrown their caps into the ring for this year's competition will soon receive an email outlining the rules and the format for this year, and we'll need your RSVP by the end of August. Our advice? Get started on your study now! You can pick up back issues of Australian Bartender in the iPad app.
And don't forget to book your Bar Awards tickets — they're are only available to finalists, bar professionals and sponsors. Click here to head to barweek.com.au to book your tickets now.
If you think you should see your name in the list below and it isn't there, email sam@spantonmedia.com.
ADVERTISEMENT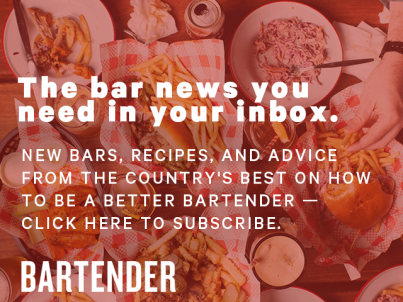 &nbsp
The competitors for the 2014 Bartender of the Year sponsored by Havana Club are…
Aasha Sinha, Riley St Garage NSW
Adam Douglas, Palmer & Co NSW
Alessandro Carrozza, Papa NSW
Alessio Frattini, Clubhouse NSW
Alex Gilmour, Black Penny NSW
Alex Robertson, 360 Bar and Dining NSW
Alex Archibald, The Walrus Club QLD
Alex Boon, Fourth Wall NSW
Alissa Gabriel, Press Club QLD
Anthony Cashman, Press Club QLD
Anthony Gardik, Spice Temple Melbourne VIC
Ben Blair, The Crossing NSW
Ben Ward, Miss Moneypenny's QLD
Binoy Pinto, Low 302 NSW
Brad Josephs, Tbar NSW
Brady Retschlag, Black Bird Bar & Grill QLD
Brendon Osmers, The Gresham QLD
Christopher Pettitt, The Barber Shop NSW
Clinton Duane Bernard, Cloudland QLD
Cristiano Beretta, The Rook NSW
Damien Kos, Mrs Hyde VIC
Daniel Walker, The Kitty – Treasury Casino QLD
Daniel Bicknell, The Gresham QLD
Daniel Noble, Mojo Record Bar NSW
Dominic Xavier, Cobbler QLD
Dominique Cacioli, The Noble Experiment VIC
Doug Laming, Rabbit Hole Bar NSW
Douglas Dunnet, Mojo Record bar NSW
Eddie Lai, Velvet Bar VIC
Edward Quatermass, Papa Jack's QLD
Eloise Telford, The Walrus Club QLD
Enrico Basile, Miss Moneypenny's QLD
Geoff Fewell, The Lui Bar VIC
Harley Whittingham, 28 Lounge VIC
Jack Sotti, Eau de Vie Melbourne VIC
Jadah Wadley, Pavonia Place NT
James Hughes, The Bowery QLD
Jamie Walker, The Keystone Group NSW
Jasmine Pardo, Jack Ruby SA
Jason Lindsay, Collection Bar VIC
Jay Gray, Eau de Vie Sydney NSW
Jenna Hemsworh, Bad Frankie VIC
Jeremy Hopton, Mackay Grande Suites QLD
Jessica Morrison, Minsky's Hotel NSW
Jessica Gooley, Beachfront NT
Jimmy Irvine, Hinky Dinks NSW
Joe Sinagra, Bobeche WA
Joe Worthington, SoCal NSW
Jonothan Carr, Mojo Record Bar NSW
Joseph Winika, Shady Pines Saloon NSW
Joseph Power, Press Club QLD
Julius Yates, The Lobo Plantation NSW
Keaton Loxley, Laruche QLD
Lachlan Sturrock, Applejack Hospitality NSW
Led Emmett, Swine and Co NSW
Lee Potter Cavanagh, Low 302 NSW
Luke Fleming, Loft Oyster & Wine Bar SA
Martin Lange, Cobbler QLD
Matthew Linklater, Bulletin Place NSW
Matthew O'Sullivan, Papa Jack's QLD
Max Cristao, Mr Moustache NSW
Max Gurtler, Rockpool Bar and Grill NSW
Merlin Jerebine, Frankie's Pizza by the Slice NSW
Michael Chen, Zeta Bar NSW
Michael Chiem, Cliff Dive & Tios NSW
Millie Tang, The Press Club QLD
Mitchell Mcclintock, Fourth Wall QLD
Nick Selvadurai, Cookie VIC
Orlando Marzo, Eau de Vie Melbourne VIC
Patrick Kanongataa,Zeta Bar NSW
Peter Seabrook, Magazin Bar NSW
Peter Nguyen, Palmer & Co NSW
Reece Griffiths, Low 302 NSW
Rinna Kato, Blackbird Restaurant & Bar QLD
Rob Dinnen, Udaberri SA
Rob Elsworth, Hotel Mosman NSW
Rollo Anderson, The Rook NSW
Ross Ekman, Four Doors Plus One SA
Ryan Gavin, Rockpool Bar & Grill NSW
Sam Wilson, Black Bird Bar & Grill QLD
Sam Egerton, Palmer & Co NSW
Samuel JC , The Alchemist Bar VIC
Sean McGuire, Nieuw Amsterdam VIC
Sebastian Soto, Ramblin' Rascal Tavern NSW
Stephanie Haile, Mojo Record Bar NSW
Steve Lower, Misnkys Hotel NSW
Steven Elliot, Treehouse Bar NSW
Steven Prasad, Hatch & Co Gasworks QLD
Stewart Morrow, The Baxter Inn NSW
Taka Shino, Magazin NSW
Tasha Lu, Eau De Vie Melbourne VIC
Thor Bergquist, Bulletin Place NSW
Timothy Zizzi-Knight, The Winery NSW
Tom Pearson, Press Club QLD
Tony Huang, Bacchus QLD
Will Price, The Bowery QLD
Will Cowley, The Twig and Berry QLD